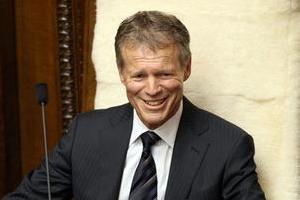 List MPs are called many names - many not flattering, and many not fair.
But what they call themselves has caused so much confusion that Speaker Lockwood Smith asked them what they would like to be called. Yesterday, he revealed the answers.
What they cannot be called is a list MP "for" an area because an MP "for" an area is a constituency MP.
Most list MPs have been rejected by a particular area at the election, and the MPs who beat them take exception to the implication that an electorate has two MPs.
Apart from that restriction, MPs have been given licence to describe themselves as they see fit.
Former electorate MP for Otaki Darren Hughes - who was beaten by National's Nathan Guy - wants to be known as "Labour list MP based in Otaki" or "Labour list MP resident in the Otaki electorate".
Kate Wilkinson, from Christchurch, wants to be known simply as "National MP"; Aucklander Melissa Lee wants to be known even more economically as "List MP."
But their flamboyant Hutt Valley colleague Paul Quinn wants to be called "National list MP; championing the Valley".
Act's veteran MP Sir Roger Douglas wants to be called "Act list member of Parliament looking after South Auckland and Waikato".
The name list also includes a Labour constituency MP, Christchurch Central MP Brendon Burns, who was once editor of the Marlborough Express.
He wants to be referred to as either "Christchurch Central Labour MP working in Marlborough" or "Labour MP working in Marlborough".
Dr Smith's list omits one thing - he doesn't say who he expects will be addressing the list MPs in this way.