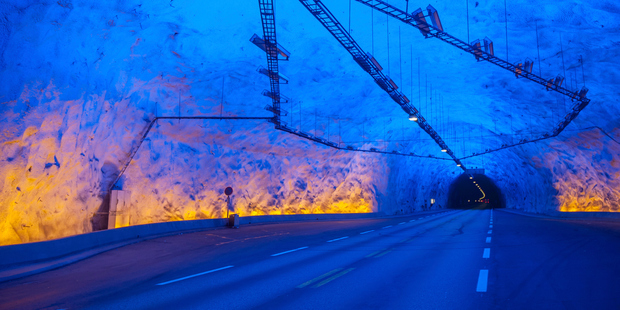 The most stunning road I've driven on is the one that runs between Laerdal and Aurland in the snappily titled Sogn og Fjordane region of Norway. The fjords are gorgeous of course, but what makes this particular road great is the 24.51km Laerdal Tunnel - the biggest road tunnel in the world.
Our writer Chris Reed found his stunning road in the red of the Queensland Outback. My Norwegian road stunned with its bold engineering (there are air purifiers, caves in which drivers can rest, elaborate safety measures and different lighting schemes to keep a driver's mind alert - in one instance by mimicking sunrise). Reed's stretch of dusty Queensland road was an altogether less developed affair. Willfully less developed. It seems that's how the locals like it. As Reed puts it in his excellent piece, the Queensland Outback locals "are laconic in a way that makes Speight's Southern Man look like Graham Norton".
Great Danes
Hoteliers, throw your arms open to the Danes.
One of those utterly unscientific, yet clearly banter-worthy polls, this time from Hotels.com, has found that Danish guests are the least likely to pilfer goodies from hotel rooms. A respectable 88 per cent of the Danes said they had never taken anything from a hotel room in their travels.
Kiwis come out in mid-table, with 27 per cent of us admitting to taking something extra from a hotel stay.
But rest your guilty conscience, my fellow shampoo-grabbers: this survey was only concerned with the big ticket items - plush robes or luxury bedding, that sort of thing.
Toiletries, the reasoning seems to be, are as good as yours.
Magazines and books were by far the most likely things to be lifted.
Globally, 65 per cent of guests said they'd never taken an item from a hotel room.