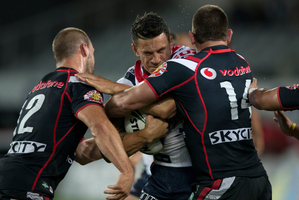 Oh for a magic wand, and the chance to wave it around the footy fields of the world to call a few of our best Auckland players back home.
I'm not going to be greedy here, and only pick on a couple of standouts of the moment. But the Blues and Warriors have sure let some good ones get away.
That was one of the thoughts while watching the Warriors and Sydney Roosters duke it out at Eden Park on Saturday night. Even from way up in the No1 stand, it was impossible to miss the dancing feet of Roger Tuivasa-Sheck, who is going to be a superstar for the Roosters.
There has rarely been a player, in league or rugby, able to change direction so sharply. The little Welsh rugby five-eighths Phil Bennett had among the best of all sidesteps, best remembered by the one which started THE Barbarians try against the All Blacks in 1973. Likewise, Tuivasa-Sheck can dart this way and that at a remarkable speed.
He will make a lot of defenders look stupid if his career takes off the way it should. He was within the grasp of the Blues and Warriors, but threw another sidestep. The Roosters always get their man, or boy in this case. What a shame.
Then there's Sonny Bill Williams of course, another who flew the coop, and from the later crop of players Sam Kasiano at the Bulldogs. Kasiano, from the Otahuhu club and Mt Albert Grammar, is a one-man wrecking ball with cult hero status written all over his giant frame. If only for a crystal ball, before he headed to Brisbane as a teenager.
Which brings us to Ben Afeaki in the rugby ranks. The North Harbour giant is the best prop prospect New Zealand has had for years. While there are decent defensive props around, Afeaki has rare ball carrying ability and skills which is what the All Blacks desperately need to up their game.
Afeaki was schooled in Auckland and plays for a province in the Blues region. How the heck did he end up at the Chiefs? There will be an answer, but not a good enough one considering his exceptional potential.
Would these players be as good as they are had they stayed in Auckland? That's a relevant question of course, but we'll put it aside for this argument's sake. Tuivasa-Sheck, Williams, Kasiano, Afeaki - you can't win them all, but it would have been nice to win those ones.
Godinet looks promising
Warriors' fans must cling to small mercies, and they don't come much smaller than Pita Godinet. He made a difference after coming on at dummy half against the Roosters, and little wonder because utility Elijah Taylor doesn't look good enough. Dummy half is an exhausting and demanding position so Godinet - who was schooled in the halves - has a lot to learn. But it looks promising.
I've got another problem with Taylor - it's hard to have faith with a player who has already signed to go elsewhere - in his case he will follow his old coach Ivan Cleary to Penrith. A similar situation occurred with James Maloney last year, and it did affect his form by my reckoning.
Some fans can also lose the magical connection with a player who signals he wants to be elsewhere. I'm not sure of the answer, but it is an unfortunate situation.
Maloney may have left the Warriors in the lurch with his return to the Australia but it was hugs all round with his former teammates after the match at Eden Park. He even appeared to give Shaun Johnson a little kicking lesson or re-enactment, after Johnson muffed a goal to level the scores late in the game. Johnson does need the help - his shanked conversion is a strong candidate for the worst-ever goal attempt in the NRL.
Slow on attack
This is going to be a very long season - that was the underlying thought for the first two thirds of Saturday night's NRL match at Eden Park.
The Warriors' attack was dim and witless during this period. They showed a lot more attacking energy during the final stanza which did offer faint hope - but that's about all for now.