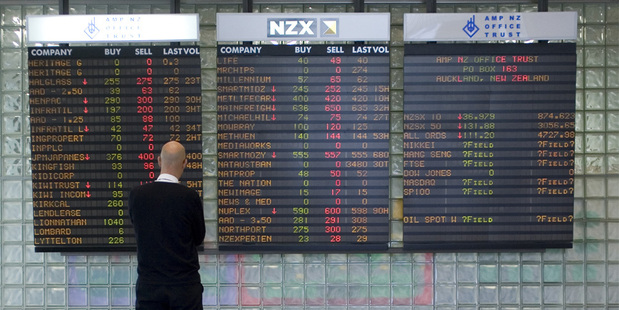 Global stockmarkets are in rude health - in the last 12 months US stocks are up 9.9 per cent, European stocks up by 13.5 per cent and NZ shares have been top performers returning 27.1 per cent. Brokers are forecasting more good times so we can go back to worrying about more mundane things like what we are going to have for breakfast or can we?
The question before the panel today is: Is the crisis over or has the day of reckoning just been deferred by government action? The state of the bond and stock markets suggest that there are divergent views on the subject because both markets are highly priced. This doesn't make a great deal of sense because government bond markets tend to react best to bad news and low inflation whereas stockmarkets thrive on good news, economic growth and are more tolerant of inflation.
It seems pretty clear that the reason for the simultaneously high bond and share prices is the willingness of the world's central banks to embark upon what one ex-executive from the Bank of International Settlements called "one of the greatest economic experiments of all time".
That experiment is popularly known as "quantitative easing" and the mere hint of its introduction is enough to induce stockmarket investors to phone their brokers. Quantitative easing (QE) is being practised on a large scale in the US, the UK and Europe and it involves creating money out of thin air and using these funds to buy high quality bonds thus pushing down interest rates.
The rationale for QE was set out by Lord Keynes in the 1930's that when the private sector is too scared to spend, the government needs to come to the party and inject cash into the system so that the economy has lower low points. This stimulus, according to the theory, can then be withdrawn at some later date and thus a recurrence of what happened in the 1930's is avoided.
But can such a painless solution really solve decades of, well, decadence? It seems all too easy. Private debt levels in the US have increased markedly. Is it realistic to expect that this can be resolved with a click of a mouse? I am reminded of a comment in the Barclays Capital Equity Gilt Study which highlighted an advert for a bank; "we can lend you enough money to get you completely out of debt".
It is thus easy to be cynical about QE surely you can't solve the western world's debt problems by lending them more money? That however ignores some important facts. Chief amongst those is that, in much of the world, short to medium term government bonds are negative in real terms so as John Plender recently wrote in the Financial Times "it is possible to borrow for nothing to invest in infrastructure that produces high economic and social returns".
Whilst the stock and bond markets seem to embrace QE with the fervour of an alcoholic getting a free drink, others wonder whether what is good for Wall Street is good for the economy. This brings us to a recent paper by William White of the OECD and the Federal Reserve of Dallas. The paper is entitled "Ultra Easy Monetary Policy and the Law of Unintended Consequences". Mr White reckons one of the most significant and worrying aspects of QE is that the price of money in the form of interest rates are being suppressed leading to mal-investment and perhaps ultimately a crisis.
It is also not clear that QE is having a big effect on the real world - banks and companies have lots of cash but banks are reluctant to lend and companies would rather buy back their shares instead of spending money on new plant. Is this because they believe the necessary crisis has been deferred rather than avoided and they are waiting until it is safe to go back into the water?
Another person who doesn't think QE is a good idea is Stephen Roach, a senior fellow from Yale University. He reckons that the excess liquidity from QE will mean that the next crisis is a matter of when, not if. Almost half a century ago another economist, Friedrich Hayek, had the same view and he said "excess liquidity can misdirect investments leading to a boom followed by a bust".
What does this suggest is an appropriate investment strategy for Mum and Dad, retired and living in Tauranga? If you believe that the only reason interest rates in the US are as low as they are is because of QE then when QE winds down and the world moves to balance its budget interest rates will go up and everything will be repriced downwards not just bonds but property and shares too.
But the consensus view amongst financial advisors and stockbrokers is clearly that bonds are expensive and shares are cheap. One advisor wrote on a website that interest rates could only go up from this level and another advisor said he owned no bonds at all for his clients. Not everybody shares the opinion of stockbrokers and financial advisers. Late in 2012 we reviewed a research paper which argued that global interest rates are as low as they are because they reflect the heightened risk of an economic meltdown. Maybe the reason for low interest rates is the likelihood of a depressed global economy in the long term as the excesses of the past are unwound.
What to do? If QE raises inflation and interest rates then a higher than usual level of cash should be held in portfolios but if the global economy stays sluggish local long-dated bonds are likely to be in demand. It goes without saying that it is impossible to come to a definitive view as to what is going to happen so the answer is to be wary of any advisor or firm with strong views in either direction and maintain a portfolio that will generate a reasonable level of income whether the scenario be deflationary or inflationary.
For the record a number of independent experts reckon that we could have a deflationary environment for an extended period but the ultimate end game will be inflation. Positioning portfolios for the latter scenario prematurely could be disastrous.
Mr White quotes J K Galbraith who said "politics is choosing between the unpalatable and the disastrous". A balanced budget in the USA is unpalatable for politicians but are the recent decisions averting the fiscal cliff just opting for a "disaster" at some later date?