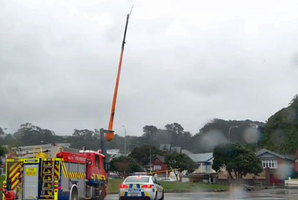 A violent storm of thunder, lightning and hail struck the capital this afternoon, causing the wind needle near Wellington Airport to explode.
The lightning appeared to have struck the top of the needle and blown out through the middle, a NZ Herald photographer at the scene said.
"There were bits and pieces spread 100 metres or more across the car park."
The needle, or zephryrometer, which was intended to mark out the strength and direction of the wind, would need to be replaced, Wellington City Council spokesman Clayton Anderson said.
"It probably won't be able to be repaired because the fibreglass in it exploded," he said.
The kinetic sculpture, made by Phil Price, was installed in 2003.
Mr Anderson said he had no idea what the cost of replacing the needle would be, but the council would probably foot the bill.
The lightning also took out the traffic lights of five intersections in the area, Mr Anderson said.
"They were down for about an hour. They were fixed quickly and now we don't expect any more delays."
MetService meteorologist Liz Walsh said the rare thunderstorm came as a southerly change hit the capital.
A particularly active southerly front made its way up the South Island this morning before squeezing through the Cook Strait into Wellington, she said.
The front then "bubbled up" and produced thunderstorms with lightning, hail and strong gusty southerlies.
"It hit Wellington head-on, basically, which doesn't actually happen a lot of the time," Ms Walsh said.
"Yesterday we had a southerly sitting out in the Cook Strait and we watched it just go round to the east, over Wairarapa, so it's not often that we actually get a direct hit through Wellington. So it was quite exciting, for us anyway."
The temperature also dropped dramatically, falling 6.8C in Kelburn in less than a hour.
Meanwhile, an Air New Zealand flight was struck by lightning just before landing in Auckland this morning.
Passenger Jen Donoghue said a "big massive ball of light" hit the left side behind the cockpit about 7.50am, accompanied by "a really loud, massive bang".
Flight NZ5070, an ATR 72 turboprop, was en route from Palmerston North. Air New Zealand said it would be checked before returning to service.
- APNZ