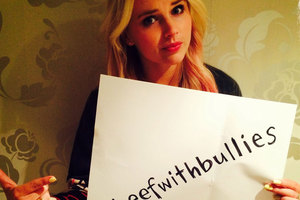 A Hastings school has shown bullies need to be stopped in their school with an award-winning video for the Mad Butcher's national social media campaign #BeefWithBullies.
Karamu High School made a short video "Bully-free Karamu" and used the "stop" symbol to show how bullying needed to be stamped out.
The short video showed students taking on bullies, who had used social media and text messaging to hurt their victims, by stamping a "stop bullying" symbol on them.
The videos were judged by comedian Dai Henwood, director and actor Taika Waititi and actress Kimberley Crossman.
Mr Henwood said the Karamu High School video showed a "good use of humour" with sound effects and music that were "top rate".
Mr Waititi called the video "original, funny, irreverent but with an important message".
Ms Crossman said the video was great. "I love the inclusion of social media in it too."
Karamu High School has won a performance by pop New Zealand boy-band Titanium, $2000, and a Mad Butcher school sausage sizzle.
Everyone in the business had been blown away by the support for the campaign, Mad Butcher chief executive Michael Morton said.
"From school communities to the public and to our great friends the Warriors and the Hurricanes there has been an overwhelming sense that we must stamp out the scourge that is bullying.
"Congratulations to the winners in particular but also to the many schools who took part and took a stand against bullying. The standard was extremely high and we are hopeful those involved will have helped influence others to give bullying the boot."
Wanganui High School and Burnside High School were runners-up in the competition, which received 20 entries from around the country.
Watch the winning video here:

- APNZ