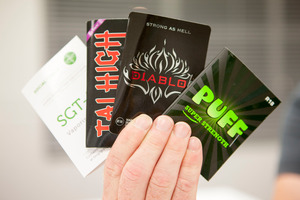 An illegal black market has already emerged for legal highs just 24 hours after they were banned.
A man selling psychoactive substances from a Hamilton motel unit was arrested in the early hours of this morning - 24 hours after the recreational drugs were made illegal.
Hamilton City licensing officer Sergeant Jim Kernohan said police were tipped off that the man was selling the drugs shortly after midnight.
"Responding officers arrived to find a 31-year-old man and his female partner in possession of 196 packets of unsold product and $680 in cash," he said.
"The man told us he had purchased the packets in Auckland for $10 each and was selling them for $20."
The man was arrested and charged with selling a prohibited substance and would be appearing in Hamilton District Court today.
He encouraged people with concerns or information about illegal sale of psychoactive substances to contact police.
- APNZ