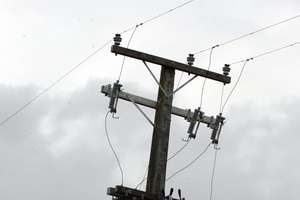 UPDATED: Power has been restored to Hawke's Bay about 75 minutes after simultaneous lightning strikes on two of the major transmission circuits running into the region.
Transpower said in a statement at 6.01pm that power was restored to around 80,000 homes and businesses.
"We would like to apologise to those in the affected areas for the inconvenience.
A power cut has hit the east coast of the North Island, with electricity reportedly cut between Hawke's Bay and Gisborne," the statement said
Unison said in a statement that the company had now completed the progressive restoration of supply to all Hawke's Bay customers.
"We advise any customers still without power to please report the fault to us on 0800 2 UNISON."
The outage was caused by a double lightning strike affecting two Transpower circuits supplying the network from Wairakei.
Power went off about 3.50pm and caused traffic congestion on the wet roads as employees left work early.
Some staff at the BNZ branch in Hastings reportedly had to climb out windows because the automatic doors would not open.
Power cam back to Hastings first with Havelock North Napier following shortly afterwards.
#Tell us your story. Where were you when the power went off? Email news@hbtoday.co.nz.
For more articles from this region, go to Hawkes Bay Today