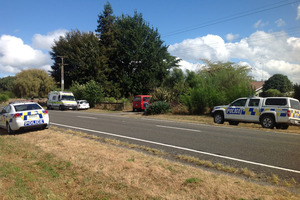 The four bull terrier crosses which attacked a 7-year-old girl in Murupara yesterday had no history of aggression, according to council records.
The Japanese girl was farewelling friends with her family at the semi-rural home when the attack occurred. They were due to fly back to Japan tomorrow before returning to New Zealand to live.
Whakatane District Council dog control spokesman Graeme Lewer said the dogs had no record of having attacked in the past.
"They're bull terrier crosses. Two of the dogs have also been desexed by their owners, they're all microchipped, all registered.''
Earlier reports described the animals as bull mastiff-type dogs.
A Counties Manukau DHB spokeswoman said the girl remained in a critical but stable condition at Middlemore Hospital.
She had enrolled at Maori immersion school Te Kura Kaupapa Motuhake o Tawhiuau and was expected to re-enrol for the 2015 year.
Principal Pem Bird said the girl's family were in the process of gaining permanent residency and had bought property in Murupara. She was attacked as her family farewelled friends.
"They liked [Murupara] obviously...she settled in amazingly well. Language is no barrier, kids connect in other ways like play, singing, doing everything kids do.
"She was picking up Maori very quickly, it's pretty similar [to Japanese] in terms of pronunciation.''
Police were informed of the attack just after 2pm. The dogs' owner voluntarily had them put down by a vet shortly after the attack.
A police investigation was underway, however a spokeswoman said it was too early to say whether the owners would face charges.
A Consulate General of Japan spokesman confirmed they had been in touch with the family and assistance had been offered.
The girl's family are with her and have requested privacy.
A family member of one of the dogs' owners said they hadn't been coping well since the incident, before declining to comment further.
A law change in 2003 banned imports of several breeds of dog and gave the Government power to ban imports of other breeds in the future. The current list doesn't include bull terriers.
Local Government Minister Paula Bennett said she was considering whether dog control regulations needed to be improved.
"At the end of the day it is horrific for that wee girl and her family and for the whole community.''
- APNZ