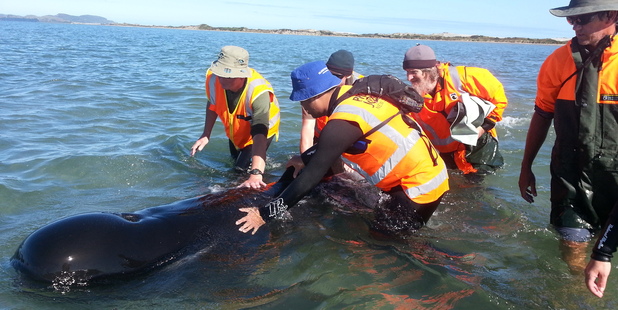 More whales have stranded themselves at the top of the South Island days after nine were put down due to being beached at the same spot.
The Department of Conservation (DOC) said 53 pilot whales had stranded themselves at the base of Farewell Spit in Golden Bay this morning.
Of these, 13 had died. Staff and volunteers were working to keep the remaining 40 alive in waist-deep water.
On Thursday, eight whales were euthanised after beaching themselves twice at Farewell Spit. A ninth whale, which had not been seen at the beach, also had to be put down after it became stranded.
DOC Takaka conservation services manager John Mason believed these whales had been from the same pod as the 53 which had stranded this morning.
"I think what we've got are the remainder of the pod we chased out to sea with a boat on Tuesday.''
Mr Mason said staff and volunteers would attempt to refloat the 40 beached whales at 11.45am at the high tide.
Anyone with a wetsuit who could get to Triangle Flat at the base of Farewell Spit by around 11.45am would be of great assistance, DOC said.
They would need to have all their own gear including warm clothing and water.
- APNZ