Manager tells of 3am brush with death as careering vehicle smashes into bar.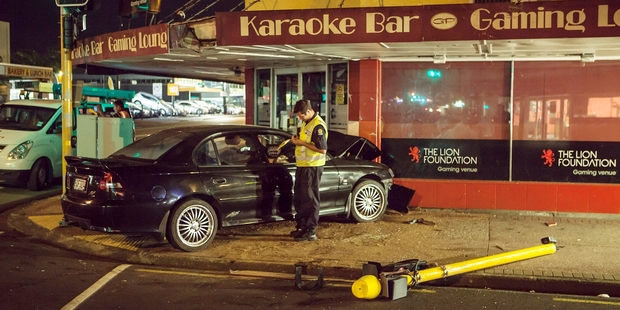 A bar manager leapt for his life as a speeding car smashed into the spot where he had been standing outside a bar early yesterday.
The man standing next to him wasn't so lucky. The black Holden Commodore pinned him to the wall, breaking his leg and leaving him screaming in pain.
The bar manager said it was a miracle no one was killed.
The drama happened at 3am yesterday at the Maklc Corner Bar on Great South Rd in the Auckland suburb of Papatoetoe.
"I saw something really fast and out of control. It was the car. I shouted 'Hey, jump,"' the manager said. He got out of the way, but his companion wasn't as quick.
The bar manager didn't want his name published because he was the victim of an armed robbery three months ago, during which he was stabbed.
Early yesterday he was waiting for the last customers to leave when he went outside for a cigarette, giving one to a "random" pedestrian he knew only as Viliami, a man in his early 20s who said he was from Panmure.
"He shook my hand, I gave him a smoke and we were just talking, and the next minute I heard something skidding.
"By the time I saw the car, it was coming straight for us."
The bar manager yelled for help to push the car back and get Viliami out. "He was just screaming, 'Please help me."'
After freeing Viliami, the manager fetched ice for Viliami's injured leg.
Three girls who emerged from the car seemed to be very drunk, he said. All were injured; one had broken glass in her back. "They were shouting and screaming. We calmed them down, asked them to sit on the corner. The guy who was driving the car appeared to be drunk, too."
Police told him the car was reported speeding in Manukau. "Why did they not stop them?" he said.
Police spokeswoman Kimberley Mathews told the Herald on Sunday a scuffle broke out among the car's occupants after the crash, but the bar manager said he did not see this.
He said Maklc's would discourage patrons from smoking on the footpath in front of the bar as it was too dangerous.
Police made several arrests and expected a 28-year-old male driver to be discharged from hospital late yesterday.
Mathews said: "Up to six people in the car received minor injuries but it is yet to be determined if they were received in the crash or in the following scuffle.
"Alcohol and restraints are thought to be factors in the crash."