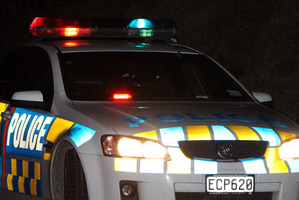 Dunedin police have blasted an "absolutely stupid" driver with five passengers clocked over 200km/h on the Southern Motorway.
The man has had his car impounded and his licence suspended following the Saturday morning speeding incident.
Sergeant Ed Baker said a police patrol recorded the 24-year-old's vehicle, which was carrying five passengers, reaching a speed of 206km/h on the Southern Motorway near Fairfield about 1.20am.
"That sort of driving is just absolutely stupid... the slightest mistake at that speed and everyone is dead."
In a second incident, a police pursuit was sparked in the city at 3.15am on Saturday, when a southbound vehicle failed to stop for a patrol.
Road spikes were set up at East Taieri, which blew out all the vehicle's tyres.
However, the driver continued for several kilometres before abandoning his vehicle at an Allanton address and leaving the scene on foot, he said.
The 20-year-old Mosgiel man handed himself into the Mosgiel Police Station later on Saturday morning, and is facing a raft of driving-related charges.