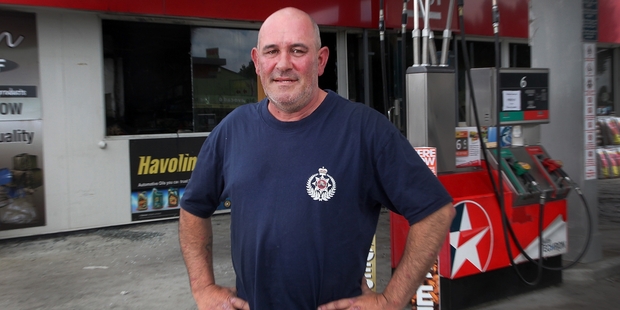 A toothless hero was in such a rush when he realised the petrol station next door was on fire, he forgot to put any shoes on in his dash to try and save it.
Graham Macdonald, his volunteer Katikati firefighting crew and Caltex staff have been credited for saving lives and preventing catastrophe in the small town early yesterday morning.
The off-duty firefighter had been sleeping when he heard his pager sound at 1.50am.
"I wasn't actually going to reply because I had my teeth pulled out that day. Then I heard it was the Caltex so I ran over."
Mr Macdonald lives next door to the 24/7 Main Rd fuel station. He was barefoot and dressed in just a T-shirt and trackpants.
He found flames burning in the kitchen area of the building and tried using a fire extinguisher "but it was too far gone".
"I put it out and it went out a couple of times but it kept flaring up after a couple of seconds."
Mr Macdonald said the smoke became too much and his training told him how dangerous the situation was for himself, the female attendant and a security guard at the station.
"It wasn't going to go out, so I got out. I was only barefoot," he said.
"We got beat back by the smoke."
The volunteer Katikati fire brigade arrived shortly after, despite the town's emergency siren failing.
It's understood a bird's nest stuffed inside the alarm prevented it from sounding but the brigade's pager system meant it could still respond.
Firefighting crews from Waihi Beach, Athenree and Omokoroa joined their comrades in containing the blaze to the inside of the building.
Katikati Caltex owner and operator Lester Gray said fire was his biggest fear as a service station owner "because of what could happen".
"[Explosions] are not always just in American movies. They are reality," Mr Gray said.
Large LPG tanks are located at the rear of the building while fuel tanks are kept underground of the forecourt.
Flames leapt out of the ceiling and the inside of the station was destroyed.
Mr Gray credited his staff "who did all the right things", Mr Macdonald and the other firefighters for averting disaster and "saving lives".
"They pretty much saved Katikati from having a major catastrophe. If they didn't get here and we waited for Tauranga [crews to arrive] and those LPG tanks went up ... that's the problem we have with smaller communities. That isolation."
The Caltex station is one of two service stations in Katikati and is the only truck fuel stop in the area.
Mr Gray hoped to be pumping fuel again by the weekend.
"This town can't survive on only one station."
The blaze was being investigated by insurance assessors and the fire service.
For more articles from this region, go to Bay of Plenty Times