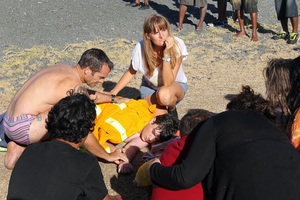 Two police officers who dived into rough surf and formed a human chain to save a 12-year-old boy from drowning are set to receive the force's highest bravery award today.
Senior Constable Bryan Farquharson and Constable Paul Bailey rescued Joshua McQuoid after he got swept into the sea at Napier beach by a large swell in March this year.
Video footage of the rescue captured the moment members of the public joined the officers to form a human chain to bring Joshua to shore, after Mr Farquharson and Mr Bailey were repeatedly beaten back by strong waves.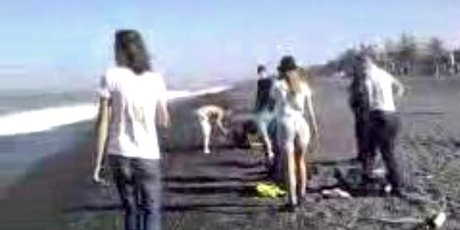 Today they will receive the New Zealand Police Association Bravery Award, in recognition of "an outstanding act of bravery by an officer's peers".
Prime Minister John Key will present the honour at the Association's annual conference in Wellington at noon.
"The actions of police officers Farquharson and Bailey exemplified the traditions and highest ideals of policing," Police Association president Greg O'Connor said.
"Their extraordinary bravery in entering the treacherous surf of Napier beach, which has claimed many lives over the years, saved the life of Joshua."
The schoolboy was playing on the beach with friends when a large wave broke on shore, knocking him over and sucking him into the surf. He was swept along the beach, and an attempt by a German backpacker to rescue him failed as he struggled against the strong swells.
Mr Farquharson and Mr Bailey responded to a 111 call, but were also beaten back by the surf.
They managed to reach Joshua at one point but the undertow broke their grip on him and swept them back out.
Mr Farquharson then had the idea to form a human chain, and managed to bring Joshua back to shore with the help of other people on the beach that day.
Mr O'Connor said the two officers showed "extraordinary and selfless bravery, in leaping without hesitation into dangerous surf to save Joshua's life".
"It is this act of extraordinary bravery for which they are being honoured," he said.
- APNZ