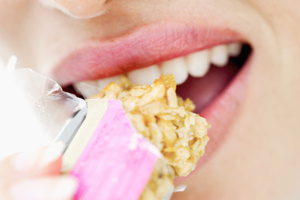 Complaints of racism against the television advertisement for Tasti Muesli Bars, which features cartoon characters bouncing to the tune of OMC's How Bizarre, have been dismissed.
The Advertising Standards Authority released findings on two different complaints about the advertisement, which at one point shows "a Pakeha being cooked on a spit". The complaints had no grounds to proceed, the authority said.
Both complainants took issue with the spit-roast scene, saying it was offensive to "Pakeha and also to the Maori people who were being mocked for behaviour which historically never happened."
This complainant also told the authority they found "Maoris being portrayed as cannibals [and] all references of cannibalism regardless of race or gender" contained in the advertisement.
The advertisement features several well-known Kiwi characters, including Opo the dolphin driving through the countryside, two policemen blowing on pies and a canoodling couple peeping out from behind a sand dune.
In addition to raising concerns about the spit-roast scene, the second complainant said the advertisement was racist and offensive towards Japanese-born New Zealanders as it hinted at whaling issues "pin-pointing a Japanese ship as the culprit by showing the Japanese flag".
Both complainants also said a line in the advertisement song which talked "about running away from cops" was inappropriate.
The authority decision highlighted the advertisement's lyrics: "Oh Tasti. We real Kiwi. But not a Kiwi as all the cliches in this ad."
The exaggerated element of the advertisement was reinforced by these lyrics, the authority said.
"It was a light-hearted and cliched montage of New Zealand's culture and history.
"While she [the authority chairwoman] acknowledged the offence the advertisement had caused the complainant, she said it was unlikely to cause serious or widespread offence to most Pakeha and Maori, and implied cannibalism in light of generally prevailing community standards,' the authority said.
- APNZ