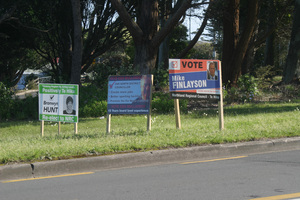 Stories making headlines around the regions today include bylaw-flouting councillors and lucky pilots in Dargaville.
Local body candidates in the Far North have erected 'illegal' signs.
Two people in a light plane were lucky to walk away unharmed in Dargaville yesterday.
A diesel spill of more than 1500 litres has left a town near Mt Ruapehu without its town water supply.
A shocking trend, leaving elderly people in the cold, causes a stir in Gisborne.
Nasty text messages could lead to jail time, a Wairarapa man has been told.
Amazing video footage of a pod of Orca in Whangarei Harbour.
"Peter Pan" appeared in Tauranga's local government election campaign.
The Shallow jetsprint Championship has found a new home at Baypark.
A Hastings retailer has closed his 20-year business after a traumatising experience.
Labour leader David Cunliffe has been getting up close with whitebait in the Tukituki River.
Bay of Plenty district's female police staff fear reprisals from colleagues.
Prime Minister John Key has opened a new geothermal power station near Taupo.
There has been a bitter sweet ending for Pamapuria School in its principal dismissal court case.
And finally, a mechanical bull and chilli sauce make a great fundraiser in Wanganui.
Other stories making headlines around the regions:
The "cat cap" is coming to the Rangitikei.
Elvis to enter Founders Theatre in Hamilton.
Grey Base Hospital in Greymouth will receive a generous cash injection.
Dave Dobbyn headlines Parachute 2014