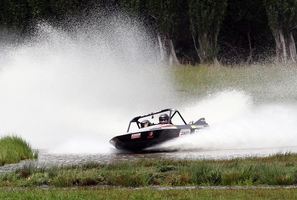 Jetsprint boats look set to thrill summer holiday crowds at Baypark next year in a pioneering first for the sport and the stadium.
Management of the ASB Stadium was in the final stages of a feasibility study that could see a shallow jetsprint course dug out of the speedway track's grassed infield.
The Jetsprint Association was so confident that its website already showed Baypark as the venue for January's second round of the New Zealand Jetsprint Championship.
Ervin McSweeney of Bay Leisure and Events, the council-owned company that operates Baypark, was not quite as definitive, saying they were well down the track of a feasibility study, with an announcement expected this month.
"It is pretty exciting. We are working very hard to see if we can make it work. There are a few things to finalise."
He said it would mean digging 5m-wide channels only a few inches deep around what was currently a rugby ground.
Tests showed the channels would not need to be lined because of the low rate of seepage, with plenty of water available to top up the course including the displacement caused by the jetboats being flung around the course.
The event did not clash with speedway dates, with the nearest meeting taking place on the following weekend by which time the grass and soil taken out to create the channels would be back in place.
Mr McSweeney said they were offered a round of the national championship, with a stadium setting being a first for the sport in New Zealand.
A big carrot was that the World Jetsprint Championships were being held in New Zealand in 2016-17.
The big advantage of the stadium for the increasingly popular spectator sport was the ease with which the action could be televised.
"It sort of fits in with the strengths of Baypark being speed and spectacle and things that go fast.
"You could almost look at it as speedway on water."
And holding the event on Anniversary Weekend meant it would be a double-banger weekend with the jetsprints on Saturday and the Tauranga City Classics of the Sky Airshow on Sunday.
"It will be a great weekend for the city."
Tourism Bay of Plenty general manager Rhys Arrowsmith saw a huge potential for January to become a month-long festival of speed, with the jetsprints, the air show, speedway, freestyle motorcross and drift cars which he said had evolved into a professional sport.