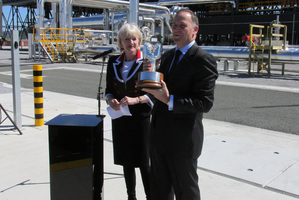 A geothermal power station, which is the culmination of 13 years of patience, persistence and determination, has opened near Taupo.
The opening took place yesterday and Prime Minister John Key attended.
The Ngatamariki Geothermal Power Station, which has cost almost $500 million, is a partnership between Mighty River Power and Tauhara North No2 Trust, a trust of iwi Ngati Tahu.
The project was agreed to between the two organisations in 2000 and construction began 21 months ago.
The new 82MW station can produce enough electricity to power 80,000 homes and is the largest power station of its type in the world. It has 40km of wells, some of which are up to 3km deep and reach temperatures of 300C.
With the completion of Ngatamariki, Mighty River Power now owns five geothermal power stations which together make up more than 40 per cent of its total energy output, and 15 per cent of New Zealand's total electricity supply.
Tauhara North No 2 Trust chairman Ngahi Bidois said the land and the geothermal resource where the power station is sited, some 15km north of Taupo, was "very sacred and precious" to Ngati Tahu. He said over the years the trust had built a close bond with Mighty River Power's people based on shared respect, trust, honesty and focus on the long-term benefits to all New Zealanders.
The opening of Ngatamariki marked a major step in economic development for the trust's 827 owners and nearly 5000 beneficiaries, he said.
Mr Key praised the station's world-class technology and said the Government's aim was to have 90 per cent of New Zealand's power coming from renewable energy by 2025.
"Today is an example of ingenuity, science and technology ... it's going to be an important asset for New Zealand for years to come."