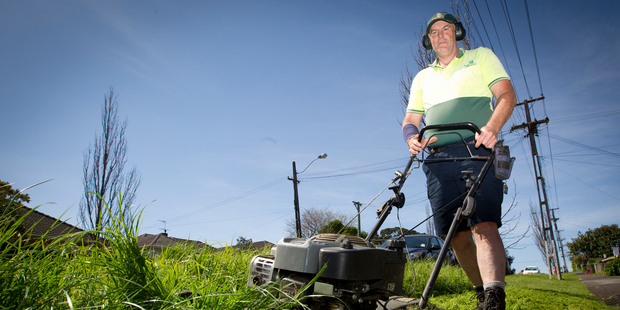 Blakey St in Onehunga is a funny little street.
There are two roads on each end and one running through its middle; resulting in several good-sized berms which the neighbours are divided about mowing. It's a microcosm of the city.
Auckland Council voted in July to save $3 million by not cutting grass berms in the old Auckland City area. This has sparked a debate among local body politicians and residents over who should take responsi-bility.
Rachel Xiong doesn't mind tidying the 75m or so berm that runs across the back of her property on Blakey St, or the 50m berm that's on the corner of their house on neighbouring Mariri Rd.
"We used to mow it all the time and then once or twice - when we missed mowing them - we noticed that somebody else had been mowing them. We checked with the man that came last time and found out he was contracted by the Auckland Council," she said.
"But it's not really a big deal to me. It's just a small patch and if they can save money not mowing it, then that's a good thing. We don't mind doing our part to help save money."
Rex McLeod doesn't feel that way though.
The 62-year-old - whose house is on the corner of Blakey and Cameron streets - has lived there for 39 years and goes for walks around the neighbourhood nearly every morning.
"I've never seen the berms look so bad. There are so many that are not mown now and it makes the place look bad.
"The council used to mow it ... but then we noticed that it got less and less."
At his property yesterday, the smell of freshly cut grass was in the air and a neat row of purple and white flowers lined the fence.
The place looks loved and cared for.
Mr McLeod said: "My wife did it. You have to cut the lawn, don't you? Otherwise it looks untidy. But I feel like it's a double dip - I think it's [the council's] job. We should have a reduction in rates if we're going to have to do them."
It's a stark contrast to the berm that runs just next door outside 12 Jubilee Ave - which backs on to Blakey - where the residents have been away for some weeks because of renovations.
The long grass makes at least one resident on the street happy - Timmy the ginger cat who happily flicks in and out of the tall grass.
There's no one home at 6 Blakey St or 17 Jubilee Ave, where the berm outside those two properties needs attention.
Suzy Acar, at the corner of Blakey and Cameron, has a berm in reasonable condition outside.
"I just think that people can do it themselves. I'd rather the money spent by council to do them go to something like hospitals or kindergartens or something else."
Making hay, but worried
Despite a likely windfall, lawnmower David Wright says it's "horrendous" that Auckland Council is making elderly residents take responsibility for mowing their grass berms.
"I've got to be careful what I say because this could make me money," said Mr Wright from Jim's Mowing. "But there are types of people out there who simply can't afford to do it ... especially the elderly, it's horrendous."
Shirley Parr of Onehunga is one Aucklander whose berms are mowed by Mr Wright.
The 76-year-old, who is unable to operate a lawnmower, already spends $40 every three weeks keeping her Paihia Rd lawn in order, and is upset she will have to fork out extra.
"I've only got a pension and that's not much. I've lived here for a long time and they've mown the berm since about 1964. The old council always did it - why not now?"
Mrs Parr's berm, outside the corner property she has lived in for over 40 years, runs for almost 100m.
"It's like a park," said Mr Wright. "I'm only going to charge her a few extra dollars, I have a business to run, but I feel bad for her."
Mrs Parr said she wrote a letter to the council expressing how upset she was over the issue.
"It's a lot of land and actually it's not my land, so why should I be paying for it to be maintained? I would do it myself if I could, but I can't. And I want the place to look tidy," she said. "We already pay high rates and now this."
Mr Wright said he had been contacted by about half a dozen people asking for berm mowing to be added on to their regular mowing services.
The rules
* Outside private homes: Owner/occupier must mow berm
* Block of flats: Residents in common must arrange to mow berm
* Apartment buildings: Body corporate must arrange to mow berm
* Townhouses: Residents in common must arrange to mow berm
* Tenants: Must arrange with landlord about who will mow berm
* Landlord: Must arrange with tenants about who will mow berm
* Council houses and flats: Auckland Transport mows the berm