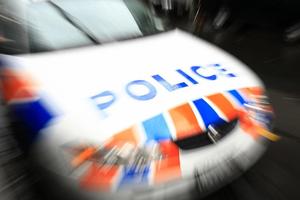 Two girls have handed themselves into police investigating the stabbing of a Hutt Valley taxi driver.
The Hutt and City Taxis driver was stabbed in the head with a sharp object after he refused to give a free ride to two girls he picked up on Queen St in Upper Hutt about 3am yesterday.
The driver fled from his taxi before returning to drive himself to hospital. He was discharged yesterday morning and is recovering at home today.
A Wellington police spokesman said two girls, aged 15 and 16, handed themselves into the Upper Hutt police station at 2pm today.
"They are currently being interviewed by police and will be referred to Youth Aid for a family group conference."
The spokesman said he could not release any further details about the girls, or a still from the taxi camera footage, citing the girls' age.
He earlier said police were analysing footage of the attack from the taxi camera.
CCTV footage from other sources was also being reviewed.
Hutt and City Taxis general manager Roger Heale said the driver was taking a few days off to recover.
"He's putting on brave face but at the end of the day, having seen the footage, [the driver has had] a bit of a delayed reaction I think. So when he's comfortable, he'll go back on when he's ready."
Mr Heale yesterday said the attack came "out of nowhere" and could easily have been a lot worse.
"Very fortunately, the wounds were superficial but having seen the footage, we think that our driver got away very lightly."
Meanwhile, the Government today announced a planned review of taxi driver safety was underway.
Associate Transport Minister Michael Woodhouse said the the review would assess how effective taxi cameras and monitored two-way taxi despatch systems had been at improving safety for taxi drivers.
The safety provisions were made compulsory in 2011 and the Government committed to reviewing their impact this year.
Mr Woodhouse said the changes were made in response to "a disturbing spate of violent" that included fatal attacks on taxi drivers.
"Since then, informal evidence indicates drivers feel safer, passengers are less likely to run without paying, and assaults have decreased overall.
"Camera footage has also helped police identify and apprehend several violent passengers around New Zealand."
The review would seek the views of taxi operators and approved taxi organisations, as well as police and Government agencies.
It was expected to be completed by mid-December with its findings to be considered early next year.
- APNZ