Boat speed is the only reason Team New Zealand lost decider Cup race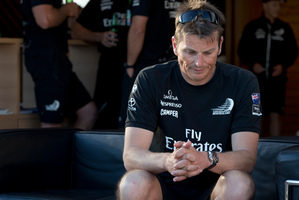 The camera settled for a moment on Dean Barker, steering the Emirates Team New Zealand AC72 back to base. His was the face of a stricken man.
That's sport; that's what happens when you are carrying the weight of a nation; that's what happens when you are on the wrong end of a great comeback.
The moment is worsened, maybe not for Barker but those looking on, in the knowledge that the loadings on him were almost the equal of the tonnes of loadings on the AC72.
Now from the depths of their damp burrows will come the vicious, anonymous trolls of the internet, the frustrated sports lovers with little ability to mix reason into knee-jerk reactions, the cynical, bitter haters (including at least one poor taste news website) who throw the choke word around. Like they would do any better. They will all have their little poisoned arrows aimed at Barker.
He was the visible face of this campaign, the skipper. That's how it works, unhappily. But Barker and Team New Zealand can take great pleasure, once the pain has receded somewhat, in what they achieved.
It's all about winning, true, but if Larry Ellison, Sir Russell Coutts and Oracle Team USA pause and consider for a while they might admit that this would have been no triumph at all had it not been for Team NZ.
If not for the Kiwis, there would have been only one challenger. If not for the Kiwis, no regatta, no great racing of the type we saw in the Cup match, no comeback, no win.
It is not overstating things to say that Emirates Team NZ and their efforts saved Ellison's and Coutts' bacon. Without them, all they had was an over-expensive, over-complicated catamaran and no one to race against.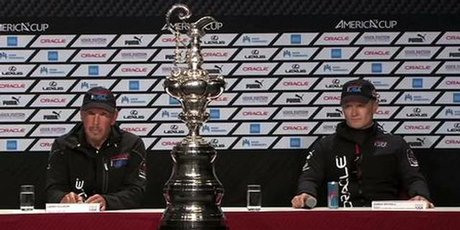 Barker, spoken to well after the official stuff had died down, has a beer in his hand but the same stricken look on his face.
"It's brutal," he says as we sit down to talk, one of the last in a long line of media chores. But this is a quality bloke. There's no running and hiding with Dean Barker. He always fronts up. He always tells the truth. And if there's a truth he can't express at that juncture, he plays a straight bat, leaving you in no doubt that he'd rather block the ball than lie or kid you.
There aren't many more quality characters in sport - but just writing that sentence is enough to know that the bitter and the disappointed will say "he doesn't have the killer instinct" and other such twaddle.
It wasn't he who made the Oracle boat faster. Take a look at the video of the last, deciding race. Barker sails almost the perfect race. He wins the start in copybook fashion - although it must be noted that Spithill probably had it over him during the entirety of the Cup match, even accepting that Barker and his crew were trying new things to win the start and defray the speed deficit they knew they had. The only reason Team NZ lost that race, and the Cup, is boat speed.
Later he talks about his love for Team NZ and of sailing. He has a beer hanging, forgotten, in his fingers and a thousand-yard stare on.
"My heart and my soul is with Team New Zealand," he says. "If the team does continue, and there is a position for me in the team, then I would love to be part of it. But I know there is a lot that has to happen before that can happen."
The question he has just answered is whether he would race for another team if Team NZ do not make it to another Cup cycle.
Asked if he wants to keep on sailing competitively as a living, he says: "I still have an absolute hunger for sailing and competition. I love it. Times like this are very, very difficult; it's very testing when you get as close as we got."
The time that especially sticks in his craw was the abandoned Race 9 - when Team NZ would have won in a canter, only to fall foul of the ridiculous 40-minute time limit rule.
It was excruciating nonsense; a "we wuz robbed" moment of facile rule making. There were nine knots of breeze. Both catamarans had touched over 20 knots. The race could have been finished and New Zealand would have won the Cup.
"It was an oversight in the rules," he says. "Unfortunately it was just one of those things. The rule exists and, even if it's wrong, we live and die by the rules in sailing. That's it."
Some people interpret that stuff as weakness. But weakness would be slapping at the race committee and slagging off the turkeys who got the minimum wind limits and the time limits so tragically wrong.
He is sad, too, at the prospect of Team NZ breaking up. Team boss Grant Dalton's words before and after the Cup suggest he will not be part of the next challenge, if there is to be one.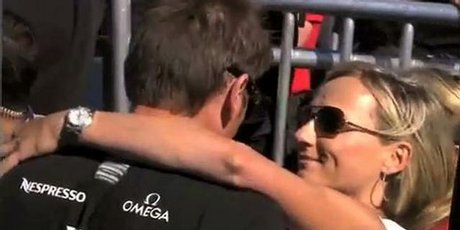 "Grant has been a great leader," says Barker. "He's been an inspiration to me personally and he's created an amazing environment. This has been the best team I have ever been involved with. I have loved every single moment of the campaign, apart from the last 25 minutes or so.
"He is an amazing guy. At times he is frustrating the way he operates - his style of leadership is very direct." Here, Barker's mood lightens and he grins. "I have been on the receiving end of a few of his direct pieces of advice.
"But I regard him with the utmost respect and have respect for what he has achieved. With the honesty he creates in the team, you know exactly where you stand. His leadership means you are not exposed to anything other than the truth and that is what is expected of you too."
Tributes for Team NZ
Mandy Barker
Mandy Barker says her husband, Dean, and his crew will quickly bounce back from their America's Cup disappointment.
"It has been a really difficult week to 10 days. The boys ... they got the start, sailed flawlessly through the race and were beaten by a faster boat in the end."
Mrs Barker, a former Black Sticks hockey player and staunch supporter in San Francisco of Emirates Team NZ, said: "Of course there will be huge disappointments, and there were times when I thought I would never pick up a hockey stick again, but that just comes with playing sport at this level, they'll all bounce back."
Team NZ boss Grant Dalton
"Dean's feeling pretty emotional. He's really given it his everything."
Larry Ellison
Oracle's billionaire backer Larry Ellison called Barker a "champion" and a "great sailor". He added: "No one should have the weight of the nation on his shoulders like Dean Barker." He also said: "America's Cup without New Zealand - it's just impossible to conceive of that." Of Team NZ he said: "What a great team, what a great sailing nation."
Russell Coutts
Oracle chief executive Sir Russell Coutts told TVNZ : "I don't believe there will [be an America's Cup without Team NZ], there might be some changes in Team New Zealand but it's clearly a team that does a lot of good for the country. What people in New Zealand have got to realise is it was one of the best if not [the best]. "