Send your weather-related stories, photos or video here.
Gale force winds and lashing rain has left a trail of destruction in the North Island.
Felled trees, fallen power lines, lifted roofs, flooding and power outages are causing problems for residents.
View our photo gallery here: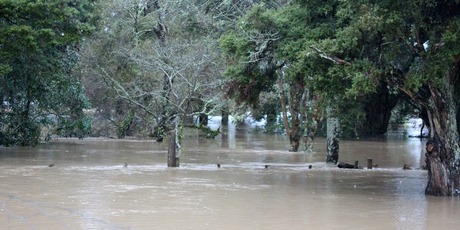 Auckland Civil Defence (ACD) said the extreme weather resulted in 65 flood incidents, 39 downed trees and nine damaged properties.
One person had to be evacuated in Wellsford, several roofs had lifted off homes and broken windows were reported, the agency said.
Further south, police confirmed residents had been evacuated from the Tolaga Bay area.
The storm also cut power to hundreds of homes. Lines company Vector said 1200 customers in Oratia and Hunua were without power, down from 6600 during the night.
Repair crews were continuing to work frantically, a spokeswoman said.
On the east coast, those north of Whangaparoa witnessed dramatic seas and harsh winds during the worst of the storm.
Orewa beach had been closed off due to erosion, ACD said in a statement.
AIR TRAVEL
Auckland Airport said at least nine domestic regional flights into and out of the airport had been cancelled this morning.
A similar number had been delayed.
Passengers should check with their airline for updates, a spokesman said.
Wellington and Christchurch airports said flights were running to schedule.
ROADS BLOCKED
Debris, slips and flooding also caused issues for motorists around the North Island.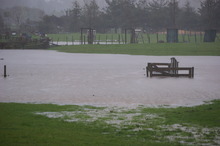 Police, who received about 80 weather-related calls in the northern area overnight, initially shut off four roads around the Rodney area. These have since been cleared and are up and running, however motorists should take extra care.
Northern police communications shift inspector Steve Kose urged drivers to report any blockages on the road.
A landslide north of Auckland on State Highway 1 has also blocked part of the road through the Brynderwyn's. Only one lane was open.
The Transport Agency has advised flooding and fallen trees are causing delays on State Highway 35 from Te Araroa to Tolaga Bay.
In Hastings, flooding and a slip south of the Glencoe Station Road intersection has blocked both lanes on State Highway 50 in Fernhill. Detours are in place.
FIRE SERVICE
The Fire Service spent the night responding to 175 weather-related calls.
Shift manager Megan Ruru said jobs were reported from "all-over the place", including on Auckland's North Shore, the Coromandel, the East Coast and the Hauraki Gulf.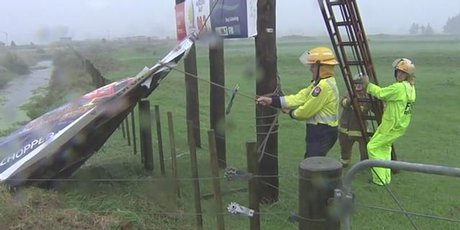 RELIEF SHOULD BE ON THE WAY
MetService meteorologist Dan Corbett said slight relief should be on the way for the upper North Island.
Overnight, gales reached 104km/h in Whangaparoa, around 90km/h in Auckland, and about 72km/h in Napier, he said.
Rainfall records showed Orewa received 67mm of rain in the past 24 hours. Whangaparoa had 40mm and Gisborne City recorded 80mm.
While the rest of the day would be wet for many areas, rainfall was expected to ease and winds would gradually abate in the Auckland area.
Northlanders are not free of the storm yet, with a severe wind warning still in place. Gales could reach 120km/h, Mr Corbett said.
Those in Gisborne and Hawke's Bay were also likely to battle heavy rain and strong winds for much of the day, he said.
A severe rain warning was in place for eastern Marlborough, including the Marlborough Sounds and the Kaikoura ranges.
A rain watch was in place for much of Central New Zealand as the wet and windy low headed down the country, Mr Corbett said. While it was expected to ease as it moved south, strong winds were likely to hit Wairarapa and Wellington today.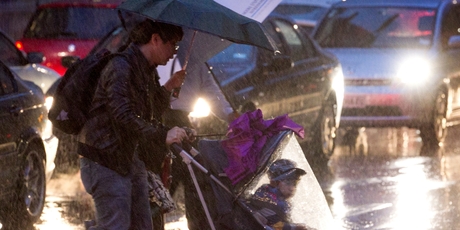 Rainfall in the past 24 hours:
• Albany - 61mm
• Whitianga - 54 mm
• Avondale - 42 mm
• Auckland Airport - 23 mm
• Whangaparoa - 40 mm
• Gisborne city - 80 mm
• Whangaparoa - 104km/h
• Auckland Harbour Bridge - 90km/h
• Auckland Airport - 87km/h
• Mercury Islands, Hauraki Gulf - 141km/h
• White Island - 133km/h
• Channel Island, Coromandel - 154km/h
• Napier - 72km/h
Source: MetService
Send your weather-related stories, photos or video here.