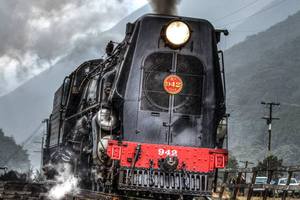 A man is dead after being hit by a stream train while trying to photograph it yesterday.
A St John ambulance spokesman said the man, believed to be aged around 50, was taken to Greymouth Base Hospital with serious head injuries after the accident. Police confirmed the man died.
Michael Tolich, operations manager for Mainline Steam, which runs the line from Christchurch to Greymouth said the accident happened at Kokiri at about 5pm.
"He was trespassing on railway property and got too close to the lines," he said. "It's a tragedy he's died for the for the sake of a photograph."
Tolich says it appeared the man was about 15cm away from the track.
"[The train drivers] were obviously shaken but they understand it's not their fault," he said. "They've been offered counselling."
He says the passengers on the train while police, ambulance, the volunteer fire brigade, and a rescue helicopter attended the scene.
Train enthusiast Mark Aspeotis was on the train's viewing platfrom when
he noticed someone too close to the track.
"And then all hell broke loose," he said.
However, he said train staff kept the around 200 passengers well informed.
Freelance photographer Steven Russell was further up the line waiting to take a photo.
He said he'd ealier seen people standing "far too close to the tracks".
Tolich said:"There's no excuse for trespassing near railway lines. It's been an unfortunate tragedy."