TV viewers love reality shows - and so do advertisers. That is because the line between paid, scripted product placement and authentic 'real' content is getting harder for viewers to spot.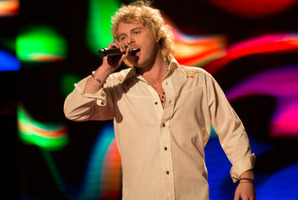 It is 8.30am on Friday on the set of ratings-busting reality TV show The Block, and bleary-eyed contestants and crew are beginning to assemble for a busy day of filming ahead.
As if on cue, a large branded coffee truck pulls up and a couple of dozen people are soon queuing for free drinks and cakes.
The catering is laid on by one of the show's main sponsors, Wild Bean Cafe, and TV3 host Mark Richardson gulps down caffeine from a Wild Bean cup.
He is also praising the virtues of a flash ute he's been using - supplied by another of the programme's main backers, Mazda.
A quick glance around the building site at Belmont, on Auckland's North Shore, and it is impossible to avoid highly visible branding from the show's major commercial partner, DIY giant Bunnings Warehouse.
There is a large Bunnings container parked at the entrance that serves as a tool shed for the competitors, and tradies are wearing shirts emblazoned with their sponsor's logo. And the cameras aren't even rolling yet. "Very few shows give this kind of exposure for a sponsor, and the programmes can't happen without it," explains Richardson, a former international cricket star. "It is a very difficult blend to get right, though. If you overdo it, it doesn't work."
Richardson admits some scenes on The Block are partly scripted in advance. This is partly to ensure any product placement is tastefully handled and won't make the viewers reach for the remote.
"Some situations are scripted but what the contestants say is not," he says. "Contestants are not actors and there is room for ad-libbing. Script them too much and it could all turn to custard."
Welcome to the world of reality television, where commercial possibilities are exploited to the max.
Reality shows continue to attract huge audiences in New Zealand, and in recent years there have been myriad homegrown shows to choose from: The X Factor, New Zealand's Next Top Model, MasterChef, New Zealand's Got Talent, Mitre 10 Dream Home, Dog Squad, Border Patrol ... the list goes on and on.
Their popularity is soaring, too. The second series of The Block kicked off on Monday and attracted more viewers than the first series.
About 801,500 viewers aged 5 and over tuned in to the opener on Monday. Tuesday's episode also beat TVNZ rival Mitre 10 Dream Home in the ratings when it was screened at the same time.
A recent Herald on Sunday poll conducted by Nielsen reveals about 44 per cent of viewers enjoy watching reality competition shows - more than twice as many as admit tuning into TV soaps. And given the choice between more frequent or longer ad breaks, many would happily settle for more product integration.
More brands, more logos, more talent-show judges turning up to their studios in chauffeured late-model Ford SUVs and sipping from oversized Coke cups.
In the UK, product placement is banned from most free-to-air channels. Viewers are protected from the results of dodgy backroom deals with advertisers, with a ban on all logos.
On reality shows like Big Brother, every product in the kitchen has a generic label placed over the branding: "coffee", "beer", "wine".
But in New Zealand, product placement and sponsorship of "real-life" programmes is at an all-time high. As more viewers have access to time-shifting technology, enabling them to skip ad breaks without moving from the sofa, marketers have turned to increasingly clever ways to plug their clients' products.
Some critics believe the constant bombardment of thinly disguised advertising is diminishing the credibility and quality of the shows people are watching. But it is difficult to argue with the ratings.
Product placement and scripting to showcase sponsors has never been more apparent than in the recent series of X Factor NZ, co-produced by MediaWorks and FremantleMedia Australia.
Branding from corporate giants such as Coca-Cola featured heavily throughout the show.
Peppered throughout episodes were carefully managed promotional items, including a visit by contestants to Ronald McDonald House, a sequence filmed in a Ford Kuga car and an interminable slot where the finalists raved about the Samsung smartphones they had been given.
Justin Mowday, chief executive at advertising agency DDB, co-ordinated the big-money X Factor campaign for McDonald's.
Sitting in his trendy, open-plan sixth-floor office in a low-rise building just off Auckland's city centre, the nattily dressed ad man waxes lyrical about how a balance has been struck between out-and-out promotion and producing compelling content.
The X Factor received a $1.6 million leg-up from NZ On Air - but that is just a drop in the ocean compared with the full production costs met by TV3 and the sponsors, Mowday says.
"Sponsorship has been part of reality shows for many years, but product integration and placement is an area that has grown significantly in recent years," he says.
"New Zealand has a small population and multiple sources of revenue are needed to make these shows economically viable. When you get a sponsor on board up-front, it significantly mitigates the risk for the production and TV companies."
Mowday - who says the product-placement business in New Zealand is worth "north of $10 million" - was behind some innovative marketing tools on the X Factor such as promoting a new McDonald's dinner box, created especially for the series.
"A number of clever things went into the campaign, starting with supporting the Ronald McDonald House charity as the headline message. The dinner box was something that was backed up by regular television advertising and was a big success.
"A portion of money went back to the charity from sales and this nicely closed the loop on the campaign," he says.
"This kind of marketing is becoming really sophisticated and the idea is to have the advertising placed seamlessly into the show, or viewers will simply turn off."
X Factor finalist, tousled-haired rock singer Tom Batchelor, wasn't a fan of staging scenes to suit sponsors but was prepared to put up with it for the opportunity of finding stardom.
"Backstage there was always plenty of drinks made by Coca-Cola, which was great and it was not too intrusive on-screen," he tells the Herald on Sunday.
"I did feel a bit silly singing in the back of a Ford with the rest of the guys, but fortunes were being spent to try and make us famous so I reckoned that was a fair enough trade-off."
Batchelor was also in a sequence where finalists were handed the Samsung smartphones to keep.
"We were told we could use our own cellphones privately but only the Samsung ones were to be seen on television. I wasn't bothered because I haven't owned a mobile phone for years, so I'm happy to still have the one given to me."
Julie Christie is regarded as New Zealand's queen of reality TV. While at the helm of successful production companies Touchdown and Eyeworks, she trailblazed mass-market lifestyle, entertainment and reality programmes such as Changing Rooms, My House My Castle and Treasure Island.
She produced the first series of The Block and is soon to become a board member of MediaWorks Holdings, which is in the process of purchasing TV3 parent company MediaWorks.
Christie believes reality shows are popular because viewers can identify with the ordinary people on screen.
"Their personalities are shown warts and all so people can relate to them," she says. "Everyone knows someone just like Pete and Andy from The Block.
"The fact is that the stories we see on unscripted television are our stories, New Zealand stories."
Christie is comfortable with the level of sponsorship required to make successful reality shows. "I am happy with the level of integration on all the shows I have produced. I enjoyed making them work for the audience, the broadcaster and the production partners."
She says New Zealand punches above its weight in the genre - she has often been asked by American and Australian counterparts how she can produce shows of this quality and scale for the budget.
"Selling our shows overseas is the icing on the cake. But that requires a mindset that you are making television in New Zealand, not New Zealand television. You need to broaden your appeal and think about your execution if you want a show to travel well."
Misha Kavka, associate professor of film, television and media studies at the University of Auckland, is convinced New Zealand's small population makes the country ideal for churning out a conveyor belt of hit reality shows, which means a captive audience for advertisers.
"People tune in to see people and places they know, or they know people who are friends of family of the contestants, and that is a big drawcard," she says.
"Product placement started in the early 2000s with American shows like Survivor, but techniques are now becoming increasingly more sophisticated and the advertising is getting harder to spot."
TVNZ and TV3 have entire departments dedicated to integrating advertising into shows, using product placement and carefully scripted segments. TVNZ has enjoyed success with shows such as New Zealand's Got Talent, MasterChef and Border Patrol.
Andrew Shaw, general manager of commissioning, production and acquisition, declines to say how much cash is required to produce a hit reality show, citing it as commercially sensitive information.
But he insists viewers are becoming increasingly used to seeing sponsor products on screen.
"We've been delighted with the performance of television programmes containing a blend of both sponsorship and product placement," he says. "Evidence is that audiences are accustomed to and accepting of both aspects in high-rating local shows.
"Clearly agencies and advertisers worldwide are looking for new ways to connect with audiences, and there is a considerable amount of evidence to suggest that audiences actually prefer this kind of communication."
In 2010, MediaWorks set up an integration team to deal with an increasing demand for sponsorship.
The team liaises with advertisers and producers of reality shows to weave products into storylines within shows like The Block.
Melanie Reece, general manager of integration, says the station draws the line at pushing products in a tacky or overt way.
"MediaWorks would not allow anything advertorial in nature. We believe integration done badly can have a negative impact on a brand and we pride ourselves on doing it well. We retain editorial control at all times. Our advice to advertisers is to not be prescriptive in any way - let the producers of the show engage the audiences because this is what they are good at."
NZ on Air took flak when it awarded $1.6 million of public money to TVNZ to make the first series of New Zealand's Got Talent. The same amount was sunk into the X Factor.
Chief executive Jane Wrightson defends those decisions - she insists partly funding popular shows from the public purse is not disadvantaging other genres such as drama and documentaries.
"We do not call these programmes reality shows because they are performance-based," she says.
"It is a way of giving primetime access to New Zealand performers.
"They are fun and we are allowed to fund fun things that are popular with viewers. However, we do not fund competition-style shows like The Block."
Although NZ on Air recently announced it would contribute $800,000 towards a second series of New Zealand's Got Talent, Wrightson reveals there will be no further funding of the show. "By series three, we would fully expect the series to be able to pay for itself."
Although this may be an indication that reality shows may have to rely more heavily on raising cash privately, industry experts believe integrated advertising is to stay.
Auckland-based product placement and sponsorship specialists Exposure have never been busier.
The firm brokers tailored deals that include everything from placing simple props within television shows to organising megabucks, multi-platform partnerships.
"Becoming associated with a popular reality show can offer lot more of a return to sponsors than just seeing their product on-screen, or simply having it mentioned," says Exposure director Kim Ellett.
"A lot of these shows have associated websites and there is plenty of scope for integrating your product there, too.
"When you consider the costs of producing regular television adverts to be shown in-between programmes, that sometimes is not the best way forward as the viewer can stop engaging during breaks."
Ellett adds: "When you have a product integrated into a show, it becomes impossible for a viewer to skip past it and it can also be seen time and time again via on-demand services on the internet.
"This is now a growing global business and it is here to stay, in increasingly sophisticated and innovative ways."