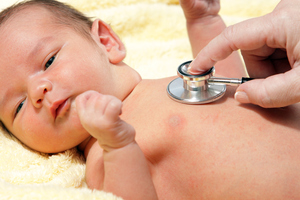 An Auckland paediatrician and researcher is being recognised today for his contribution to understanding childhood asthma and reducing deaths from Sudden Infant Death Syndrome.
Professor Ed Mitchell will receive the prestigious Howard Williams Medal from the Royal Australasian College of Physicians at a congress in Melbourne.
The College's Paediatrics and Child Health president, associate professor Susan Moloney, said Professor Mitchell had received international recognition for his work on preventing SIDS (Sudden Infant Death Syndrome), which led to a public health campaign which reduced New Zealand deaths from 250 a year to 60.
Professor Mitchell said he was honoured to be recognised. "We shouldn't lose sight of the many families who have lost their precious children, and yet have shared their experiences with us, so that we can learn to help future children. I sincerely thank them."
Professor Mitchell has been the Cure Kids Professor of Child Health Research at the University of Auckland since 2001.
The Howard Williams Medal acknowledges outstanding contributions to paediatrics and child health in Australia or New Zealand.
- APNZ