An old man falls in the middle of a busy street and no one comes to his aid. Public apathy in the face of others' misfortune is a common phenomenon worldwide and the 'bystander effect' is the subject of much research.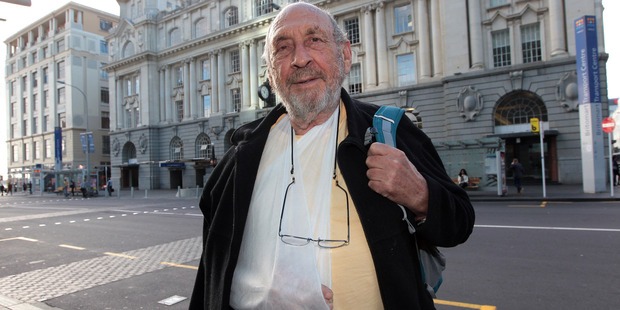 On a Monday afternoon in mid-July, light rain had dampened the pavement outside the Britomart Transport Centre in downtown Auckland. Office workers were soon to spill out of high-rises and rush to trains and buses that would take them home.
Don Powley, 72, a retired dairy farmer, had just used his Super Gold Card to catch a Western Line train into the city. He had come up the escalators from the platforms, and had just crossed the road to wait for a bus across the Harbour Bridge, when his feet suddenly slipped out from under him and he dropped to the footpath.
"I was in a lot of pain," he recalled later. "My arm was so sore I could hardly move and when the shock hit me, I almost vomited."
An X-ray the next day would confirm a fracture of the right humerus (the bone in the upper arm). But as he lay between a rubbish bin and a bus shelter on the wet pavement, Powley wasn't thinking about that: his mind was focused on the struggle to get to his feet.
At this point you are thinking somebody must have stopped to help, right? That's what you'd have done. That's what I like to think we'd all have done, and not just because he's my dad.
But at 4.30pm outside the city's busiest transport centre, not a single person stopped to help him. Not one.
"There must have been people there who saw me," Dad said. "I thought, 'What are they thinking? There's an old bugger that's fallen over'?"
He's not sure how long it was, probably minutes, before he rolled on to his left side and managed to push himself up. It was a bit "touch and go", he says, but he got to his feet, got on the bus and got himself out of there.
What happened to Dad is, according to psychologists, not surprising at all. In fact the busier the place, the more likely people are to simply step over you.
And when you live in the city it's almost a fact of life. You'd never get to work if you stopped to help every person sitting on the pavement between you and the office, and you'd never get home again if you stopped to pick up every old man lying in pain on the footpath - assuming you even notice them.
In March 1964 the New York Times ran a sensational story headlined "Thirty-Eight Who Saw Murder Didn't Call the Police". It told of the brutal rape and stabbing of Catherine Susan "Kitty" Genovese near her apartment building.
"For more than half an hour 38 respectable, law-abiding citizens in Queens watched a killer stalk and stab a woman in three separate attacks in Kew Gardens."
It now appears that there were only three witnesses and they heard only portions of the attack, but that original story created outrage and coined the terms "Genovese syndrome" and "bystander effect".
Examples are legion. Think of those who knew but failed to tell anybody about the abuse that killed Rotorua girl Nia Glassie in August 2007. Remember Dunedin man Donald Caley, who died on a park bench in January of a diabetic coma, noticed by people but not reported until it was too late. In March, Auckland man Alvin Singh lay dead in a his car for five days on busy Puhinui Rd, unnoticed by thousands of people who passed.
There are celebrated instances abroad as well. Let's not forget how nobody helped celebrity chef Nigella Lawson when her (now ex-)husband Charles Saatchi grabbed her by the neck in June while they sat in a posh London restaurant. And most distressing of all has to be the case of 2-year-old Chinese girl Wang Yue, left to die after being knocked down and run over by two vehicles in a crowded street while numerous people passed by, ignoring her. A woman scavenging recyclable rubbish eventually noticed her and called for help but she died in hospital eight days later.
University of Auckland psychology lecturer Danny Osborne, who uses the Genovese case in lectures on bystander effect to second-year students, says we go through five stages when deciding to help a person in trouble.
• Noticing a problem.
• Interpreting it as a problem in front of you.
• Taking responsibility for that problem.
• Deciding to act.
• Following through and helping.
A reason for not getting past stage one could be that we are in a hurry and not paying attention, so don't see the person in need. Osborne says studies in the late 1960s found people in a hurry far less likely to notice a street beggar than those running late or with no pressure on their time. People with more time on their hands were more likely to register that the beggar needed help.
But it's at the third stage that the Genovese syndrome can take effect. Psychologists have found that our willingness to help others can diminish when other people are around.
"Social situations can shape how people respond to an event," Osborne says. In busy places, such as Britomart on a Monday afternoon, lots of people are walking around - why don't they help?
In my dad's case, he says, "it's safe to assume that a lot of people would have been assuming that someone else is going to help." This is known as "diffusion of responsibility".
If someone does decide to take the plunge and help, the fourth stage kicks in as the person weighs up whether it's in their own best interests to help. "Psychologists suggest you weigh up the pros and the cons of helping. If you help, you might feel good about yourself having done something good for somebody else. But if you help you might be late for an appointment. And you might embarrass yourself if the person doesn't need help."
Most of us like to think we'd overcome all those hurdles and make it to stage five.
Osborne says knowledge is power, and just knowing about the five stages makes us more likely to come to someone's aid.
So, do we like to think we're more likely to help than we really are? Definitely, says Osborne. "I think we always wind up underestimating the power of the situation. It's not as if you can assume that everybody who didn't help isn't a nice person, it's really just that the situation has such a powerful influence on people's behaviour that we do things that are pretty out of character."
Several years ago Salvation Army communications spokesman Jon Hoyle was sitting at Auckland's Wintergardens engrossed in a newspaper when he heard a slapping sound. He looked up to see a toddler struggling in the water.
"There was so much slime on the bottom that she'd slipped over and was face down and her hands were flapping," he recalls. "There were about eight people standing in a circle watching her. The were all within 5m of her, and could easily have helped, but didn't.
"The slapping sound of her hands on the water as she was trying to gain purchase, I'd actually heard that for a little while before I looked up."
Hoyle couldn't believe it. He walked over and pulled her out. The girl's mother was clearly embarrassed and scared. She grabbed the child and stormed off, proving that sometimes doing the right thing won't win you any praise.
Looking back on his brush with the bystander effect, Dad doesn't think it was a big deal, and doesn't want to make a fuss.
"There weren't a lot of people looking at me," he says. "It went though my mind that they were going to look across at me thinking 'Look at that silly old bastard'. I was more embarrassed than anything."
To be sure, it was just a small, insignificant incident in a big city - but for a daughter it's terrible to realise that nobody thinks your lovely old dad is worth the effort.

Read also
• Distressed, yet ignored - The Herald on Sunday sends an actress to feign obvious distress in a public place.