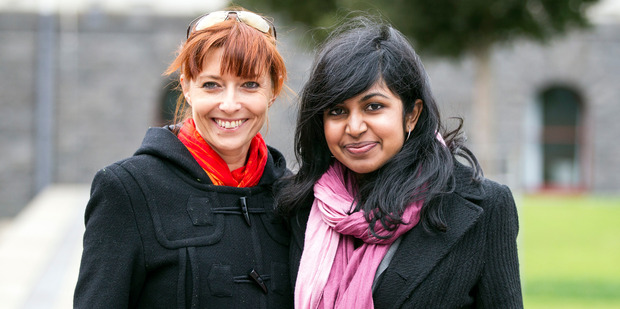 To see whether the bystander effect worked on the streets of Auckland, the Herald on Sunday put it to the test this week. We wondered whether Aucklanders would help a woman in obvious distress in a public place. We also wondered whether her dress would make any difference. The results were astounding.
At 10.30am on Thursday, actor Sandra Fischer dressed in respectable clothes and lay down on a seat in Aotea Square. Her uncomfortable pose clearly indicated that she wasn't having a rest. For about about two minutes she lay there, eyes closed, body still. In that time five people walked past, including a concerned couple who had a good look at her. They were still looking and wondering when Dini Paranagama stopped and asked if she was all right. "Oh thank goodness," the couple said, now that somebody had decided to help.
Paranagama, 25, a programme co-ordinator at Auckland Council, told the Herald on Sunday she thought about what to do for a second but said Fischer looked to be in pain and needing help.
"Let's just ask and see," she decided. Paranagama had seen a person have seizures before and knew it was best to act assertively in these circumstances.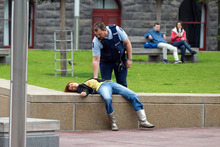 But would a change of clothes affect strangers' willingness to step in? Fischer gave herself an anti-makeover: She changed into shabby gear, messed up her hair, smudged her make-up and went for an all-round dishevelled look. She went to the same spot in Aotea Square at 11.30am but experienced dramatically different results.
This time she lay there unmoving, eyes closed and looking generally lifeless. But it was a full 10 minutes before help arrived. A family played nearby, couples sat on benches drinking coffee, 13 people rushed past. A few had a good look and raised their eyebrows to each other looking concerned, but nobody helped. A couple of skateboarders lingered within metres, trying out moves. They said later they thought she was having a rest in the sun.
When help did arrive, it wasn't from a good Samaritan but from police. Sirens screaming, they arrived at speed, parked on the footpath in front of the Town Hall and hurried over speaking into their radios. Nobody had phoned 111, though. It was thanks to an alert person monitoring CCTV in the Central Command Centre who'd noticed something wrong and sent two officers to see if she was having a medical emergency.
Fischer said the experience made her feel worthless.
"You get judged by your clothes so much. I find that really, really sad. I could have been dead and nobody cared. It scares me."