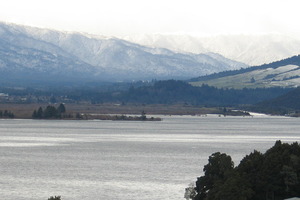 An Australian hiker was found wet, cold and suffering from hypothermia after spending the night in strong winds in Tongariro National Park.
The 22-year-old man got lost after he set out on a day hike to the summit of Mt Pihanga about midday Sunday.
He managed to reach the top but the weather closed in and he lost his way.
A land search was launched after the man called police about 5pm.
Searchers looked for him until midnight, without success, before resuming their search yesterday morning.
The man was spotted by the crew of Taupo's Greenlea rescue helicopter as it was flying searchers in to the summit of Mt Pihanga.
Pilot Nat Every said the man was wet, cold and suffering from hypothermia after a "very cold night" out on south-facing slopes in strong wind.
The man's cellphone battery had gone flat after a second call to police about 8pm on Sunday, so he had remained in the same place, spending the night huddled in the sub-alpine bush.
He was flown to Taupo Hospital before being discharged later that day.
Senior Constable Barry Shepherd said the search teams did "a sterling job" in bad weather.
"And it was good that the young man was found when he was. If there is one message out of this whole event it is that people need to tell someone where they are going and when they are due back."
Earlier yesterday morning, the Greenlea rescue helicopter was called to the upper reaches of the Tongariro River after a teenager passed out on a rafting expedition.
Mr Every said the 17-year-old had fainted, rather than being knocked on the head.
The teenager was airlifted to Taupo Hospital for observation.
Later, the helicopter was sent to Reporoa after a 62-year-old man suffered a serious medical event while working at home.
He was flown to Rotorua Hospital.
- APNZ