Stephen Dudley's family want his friends to focus on supporting one another in grief.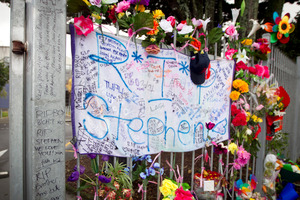 The parents of the 15-year-old boy killed in a fight at rugby training say the death of a child is any parent's worst nightmare - but now is not the time to be angry.
Brent and Mona Dudley have been comforted by the hundreds of people who have visited their home in Kelston, West Auckland, since their son died on Thursday night.
Stephen died in hospital after being beaten, allegedly by two other boys aged 15 and 17, after his junior rugby team had finished training. It's believed the fight was pre-arranged but the older boy joined in, with both allegedly punching Stephen until he fell to the ground.
Family spokesman Albert Dudley said among the mourners was former All Black Michael Jones, who led a choir group that performed hymns. "Other people have expressed their feelings through waiata or speeches," Mr Dudley said.
He thought Jones knew Stephen as a budding young rugby player.
Stephen's parents did not want to spend the time before their son's funeral being angry. "This is not a time for anger, this is a time for grieving and dealing with the immediate needs of the family."
However, Mr Dudley said they had told him losing a child, especially in these circumstances, was "every parent's worst nightmare".
There has been talk of retribution from some of Stephen's friends but Mr Dudley said their focus must not be on that. "They need to be strong and support each other."
The funeral is to be held tomorrow at Kelston Intermediate, where Brent Dudley is a caretaker. It had been a difficult few days since Stephen's death and finalising funeral details had been an important step.
"Getting to this point is quite significant for Brent and Mona."
Asked what could be learned from what happened to Stephen, he said such tragic incidents were a reminder of the "negative impact" they could have on the community.
It was too soon for Stephen's parents to discuss his death but they did want to thank everyone who has contacted them and shown support, from the schools in the area to community leaders and victim support.
"People have travelled long distances to be here in time of need ... We've got people come from four corners of New Zealand and they continue to arrive regardless of other situations they have to put up with. They come here to support the family through this crisis."
Two boys - who have name suppression - have been charged with assaulting Stephen and will reappear in court next month.
Police were waiting for the results of toxicology tests before a final decision is made on further charges. Murder charges were unlikely because of a lack of intent to kill.