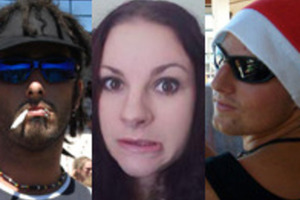 Police say they will change the way they handle pursuits after three people died while fleeing police in Gisborne.
The crash in July last year claimed the lives of driver Dylan James Kingi, 28, and two of his passengers, Peter John Bunyan, 27, and Holly Kay Gunn, 25.
A third passenger, Claire Sophie Badger, 25, was seriously injured.
A report into the incident by the Independent Police Conduct Authority found numerous errors in the way the pursuit was conducted and the officer involved failed to follow correct procedures.
The report said the officer's speed of 127km/h in a 50km/h zone was too risky, and the officer didn't meet policies regarding siren use, reporting speed limits, and abandoning the pursuit.
The authority also recommended all patrol cars be fitted with hands-free radios so officers would not be forced to drive one-handed during pursuits.
Eastern District Commander Superintendent Sam Hoyle accepted the authority's findings and had already reinforced to staff police policy around fleeing drivers.
"The officer involved in the incident has undergone remedial training and has been recertified as a 'gold' licensed driver under the Professional Police Driving Programme (PPDP).
"He is well aware now of his responsibilities should such an event occur again," Mr Hoyle said.
All staff would be "extra vigilant" in any future pursuits they undertake, he said.
Mr Hoyle said communications centres were also reviewing their practices for handing control of fleeing driver incidents from one supervisor to another.
"The dispatcher involved in this incident has undergone refresher training in the requirements of the fleeing driver policy, and the pursuit controller has been reminded of the policy's abandonment procedures."
The pursuit after Mr Kingi failed to stop after a police officer spotted him speeding in his car in a 50km/h zone.
When the officer notified police central communications, the dispatcher mistakenly noted that the pursuit was taking place in a 100km/h zone, rather than a 50km/h zone, and later also misheard the name of the street.
Shortly afterwards the officer lost sight of the fleeing car after mistakenly turning to follow the wrong vehicle.
He didn't follow policy for abandoning a pursuit which required officers to stop, turn off lights and sirens, and inform police communications, the report said.
The officer continued looking for the fleeing vehicle, and found the crash scene a short distance away.
A crash investigation found the car had slid off the road after taking a corner at between 130km/h and 136km/h.
Mr Kingi, who had four drink-driving convictions, was found to have more than double the blood alcohol limit.
The authority concluded the officer was correct in starting the pursuit, which covered 2.5km in 1.5 minutes.
However the officer's speed of 127km/h in a 50km/h zone was not justified, and the pursuit should have been abandoned earlier.
- APNZ