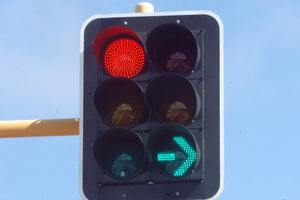 A campaign targeting motorists who run red or orange lights or fail to follow road rules at intersections started in Hamilton yesterday to try and prevent further crashes.
Operation Red Eye, run by police and Hamilton City Council, was timed to coincide with the return of students to school.
"It's all about preventing road trauma, only last week we had an elderly lady lose her life in a crash at the intersection of State Highway 26 and Ruakura Rd and on Christmas Day a female passenger was killed in an intersection crash at the intersection of Hamilton's Te Rapa Rd and Wairere Dr," said Hamilton Strategic Traffic Unit Sergeant Phil Ruddell.
Fatal intersections in the Waikato last year included crashes at the intersections of Kaipaki Rd and Cambridge Rd, at the intersection of State Highway 26 and Tauwhare Rd and State Highways 3 and 37 at Waitomo.
Motorists were being reminded "intersections can be dangerous places to be if you're not paying attention," said Mr Ruddell.
Of the crashes in Hamilton, 31 per cent can be attributed to drivers turning right into the path of other car and 37 per cent involve vehicles running into the rear of one in front of the.
Mr Ruddell said his staff deal with dozens of such incidents every month.
Weather conditions at this time of year and high numbers of children kids returning to school brought additional challenges to drivers.
"There's less light and more rain to deal with and motorists have had a couple of weeks without the risk of school children darting out in front of them. What we're asking is for motorists to drive to survive and work to avoid hefty insurance claims, or infringement notices."
- APNZ