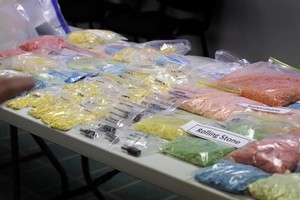 One of the people caught up in a syndicate police say was the market leader in the underground pill market has pleaded guilty.
Police arrested 22 people last month after a 12-month investigation into the manufacture, supply and distribution of Class B and C drugs.
One of those arrested was Ivy Lau. She appeared in the High Court at Auckland today.
She pleaded guilty to two charges - one of possessing and supplying a class B drug.
She will be sentenced in June.
Dubbed Operation Ark, police seized about $14 million of assets in the raids - including multimillion-dollar homes, up to $1 million cash and luxury cars.
At the time of the arrests, Auckland metro drug squad head Detective Inspector Bruce Good said the syndicate was responsible for the bulk of Ecstasy manufacture and supply in New Zealand.
It has also been linked to tablets at Fairfield College in Hamilton, where six students were hospitalised after swallowing what they thought were lollies. ESR testing has confirmed the tablets were Class C drugs and the 38-year-old mother of one of the students has been charged.
- APNZ