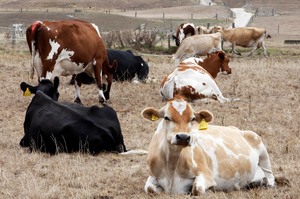 Drought relief provisions for farmers will continue until the end of September, the Government said.
A week of sometimes heavy rain had been great news for many farmers, but support was still needed, Primary Industries Minister Nathan Guy said.
"The dry spell may be over in many parts of the country but there are still major challenges ahead. It will take time to build up enough grass cover to provide feed for winter."
Rural assistance payments have been granted to 72 applicants.
They are paid at a rate equivalent to the unemployment benefit to farmers and their families in severe hardship. They are means- and asset-tested.
The Cabinet had an update on the drought from the Ministry for Primary Industries today.
Wanganui-Manawatu and Bay of Plenty are out of drought, but Hawkes Bay remains in a severe condition after Napier received just 16mm of rain last week.
Conditions remain tough for farmers in the Hauraki-Coromandel, Rangitikei and Waikato regions.
Mr Guy said a decision on lifting the drought status in some regions would not be made until at least the end of the month.
Federated Farmers adverse events spokeswoman Katie Milne said the hardest times for drought-stricken farms were coming as winter approached.
"We've got some growth right now, but we go into a slow growth period in winter - there won't be enough grass in the system to cover winter."
The West Coast dairy farmer said farmers had to use a lot of the silage they had stored up last year.
"There's still a big hurdle to get over in June and July," she said.
More farmers would be likely to take up assistance during winter, she said.
"As the rain comes, it's doesn't simply end the drought."
- APNZ