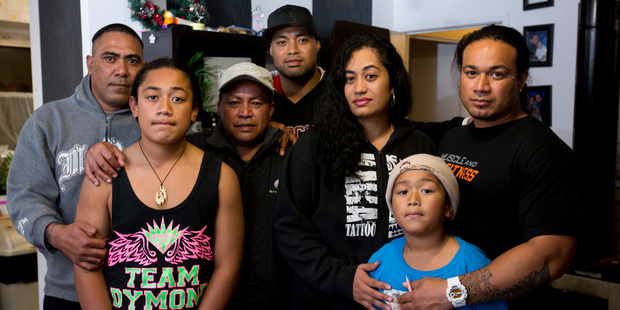 Choking on seawater, Janet Cocker and her 7-year-old son used his bright yellow rain jacket to wave down passing fishermen after their boat sank in the Hauraki Gulf on a family fishing trip yesterday.
All seven people on board the 5.8m craft survived bobbing in the furious swells for up to two hours after the boat began taking on water near Ponui Island.
Despite rough weather, the family set off from Kawakawa Bay south-east of Auckland on a fishing trip for Mrs Cocker's 32nd birthday.
After travelling for about 45 minutes they dropped anchor, but soon decided to go home.
"My husband suddenly started screaming to pull up the anchor but it got stuck and the water was coming in. By the time the anchor was up the boat was already sinking."
She was in the cabin with her two sons, Carl, 11, and 7-year-old Sione.
Sione scrambled out but she and her older son were still inside when the boat started going under.
"It happened in like 20 seconds. We were sinking with the boat so I just pushed up my eldest son up through the hatch. I don't know how I managed to pull myself up too."
Her nephew and brother-in-law held on to a floating petrol tank. Her husband, uncle and eldest son grabbed hold of the boat's bow.
Mrs Cocker and Sione, who had lifejackets on, drifted away.
"I thought it was the end of my life, honestly. It was my 7-year-old that kept me strong. The whole time that we were drifting and trying to swim, all he did was say 'mummy don't cry, we studied this at school and they said don't panic because it's not good for you'."
They signalled to a small fishing boat and were picked up. The Westpac Rescue Helicopter began a search for the others who were all found.
Police Sergeant Graham Jex said the family were lucky. "If it hadn't been for that other boat I believe we would have been pulling bodies from the water, definitely," he said.
* Read the Herald's live news blog here.
- APNZ