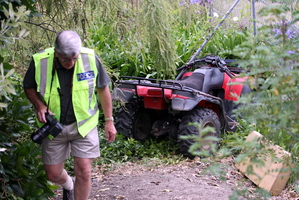 The father of a 6-year-old girl seriously injured in a quad bike crash has admitted to drink-driving and crashing the vehicle, injuring himself and his passengers.
Daniel McGregor, 28, didn't appear at Hastings District Court today because of medical issues.
His lawyer Scott Jefferson entered guilty pleas to the driving charges stemming from the accident on his behalf.
He entered not guilty pleas to a number of drugs charges he faces which the court heard stem from police enquiries following the accident.
He admitted to driving with excess breath alcohol causing injury, and the reckless operation of a motor vehicle.
McGregor's daughter, Ashlee Shorrock, suffered face, neck, spine and back injuries in the January 2 crash.
It was reported his partner Stephanie Lucas was riding on the front of the quad bike with Ashlee in her lap when they were thrown from the vehicle, shortly before midnight on Okaihau Rd, Waimarama. Ms Lucas and two others on the quad bike were also injured in the crash.
McGregor was remanded at large to reappear in June.
For more articles from this region, go to Hawkes Bay Today