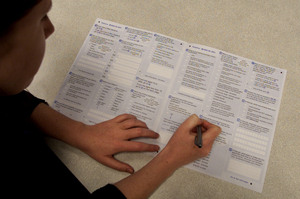 A census collector who mistakenly handed out an already complete form to another household has apologised for the privacy breach.
The form was one of six million already handed out ahead of today's census.
General Manager Carol Slappendel said the Privacy Commissioner's guidelines on how to deal with the breach were being followed.
"(It) involved one individual form, so it's very contained and it was accidental, it was a case of human error and the collector's very, very sorry."
Ms Slappendel said it was a case of human error and the form had been recovered.
"We do find it unacceptable and we're treating it very seriously but we're still gathering information about the incident."
Meanwhile, even if you're only passing through the country tonight, you'll be counted as part of the New Zealand census.
Collectors have knocked on the doors of around 1.8 million homes and handed out more than six million forms.
Ms Slappendel said collectors had gone to great lengths to contact people in apartment buildings, airports, hospitals and boats.
"Because we count everybody who's in the country on census night, we have to cover off the cruise ships."
She reminded people it was compulsory to take part in the census.
The Christchurch earthquake stopped it two years ago but organisers said nothing could halt today's Census.
Community engagement manager Nikki Hawkey said everything had been done to ensure even those in the most quake-stricken suburbs were able to take part.
"We made a really strong commitment early on to ensure we had local people walking local streets so that they are aware of all the access and emotional issues people are facing."
Read more: File online - but it could be busy