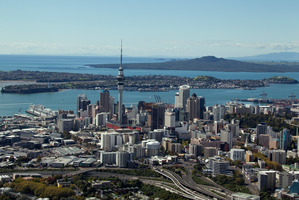 Auckland's water supply is holding strong, despite an unusually balmy summer which has kept carrier companies busy.
Latest readings from Watercare showed Auckland's total average dam storage was at just over three-quarters of capacity - and about 3.5 per cent of normal levels for this time of year.
The levels were lowest at the Upper Nihotupu, Waitakere and Upper Huia dams, with respective readings of 52.4 per cent, 52.1 per cent and 53.4 per cent.
Even with this summer's abnormally warm weather, there had been no need yet to resort to Auckland's vast reserve supply - the Waikato River.
Watercare reported yesterday that lake levels were "nearnormal".
"We had such a wet winter last year, and the year before that we got to the point where for the first time in 30 years all of our dams were actually spilling - so that helps when you arrive at summer," spokesman Daniel Wrigley said.
Auckland's water consumption over the week to Sunday was 2,920,200 cubic metres, over 215,000cu m more than in the same week last summer.

Current capacity levels
Mangatangi 70.9 per cent
Upper Mangatangi 73.2 per cent
Cosseys 77.1 per cent
Wairoa 77.68 per cent
Lower Huia 75.4 per cent
Upper Huia 53.4 per cent
Lower Nihotupu 85.6 per cent
Upper Nihotupu 54.2 per cent
Waitakere 52.1 per cent
Figures are at Thursday, February 21. Source: Watercare