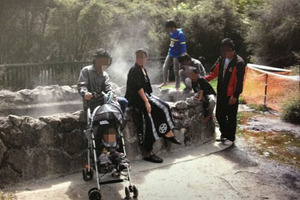 A 10-year-old boy who died after falling into a Rotorua hot pool had suffered full thickness burns to 95 per cent of his body.
Toromon Falaile Toromon had been climbing rockery around the pool but slipped on Boxing Day 2010 at Kuirau Park.
Releasing his finding into the death, Rotorua Coroner Dr Wallace Bain said he was satisfied with the work Rotorua District Council had done at the park since the accident to help prevent another tragedy.
Toromon died at Middlemore Hospital on December 30, 2010 as a result of complications from severe burns. He had suffered full thickness burns to 95 per cent of his body from the scalding thermal water.
The family had come to Rotorua for a day trip and a picnic. They had lunch before going to look at geothermal pools. Toromon and his 11-year-old brother went off ahead of the group but minutes later, he fell into the mud pool.
Dr Bain said the child's death was an unfortunate incident which ended a happy family day.
The inquest was told there were warning signs around the park and most pools were fenced off to the public but could be climbed over. At the time Toromon fell into the pool, there was no fence preventing access and this particular pool had a low rock wall around it.
During the inquest into Toromon's death, the council's parks and recreation manager, Garry Page, confirmed there were no general rules or regulations other than to ensure springs were well fenced and adequate signage was provided. He said the council conducted regular inspections.
Since the incident the council had put up fencing around the pool.
Temperature testing by the council records water temperature in the pool at 74.8C. Police investigated the incident and found there was insufficient evidence to establish criminal liability for anyone at the council.
The council has re-assessed the situation, increased some fencing and signage - including making them multi-language - and Dr Bain agreed there was nothing more it could do.
For more articles from this region, go to Rotorua Daily Post