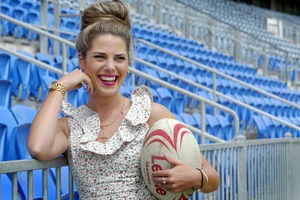 A female rugby administrator whose job it is to promote zero-tolerance for violence toward referees is perturbed that a Northland rugby association distributed a photo of her in a bikini, along with sexist commentary.
Alanna Clare, who was appointed Northland Rugby Union's referee administrator earlier this month, said she was annoyed her Facebook photo was uplifted from her site and used without her permission.
However, she had a "boys-will-be-boys" attitude to the saucy image and comments posted on Kerikeri Rugby's website.
"But at the end of the day, that's social media. You're dealing with technology these days and, when it comes to obviously being in a role where you've got a reputable organisation, unfortunately you have to keep your private life separate from your professional," she told the Northern Advocate.
"It doesn't faze me in the least. Me being in a bikini in my [Facebook] profile picture has got nothing to do with what I have to do day-to-day.
At the end of the day, people go to the beach and that's what girls wear."
The Northland Rugby Union had immediately told the Kerikeri Rugby website administrator to take the photo down but was reluctant to comment on the incident.
Ms Clare said she was "over" the incident and appreciated NRU's support. She agreed there may be a way to go before some male-dominated sports lost their reputation for being sexist and perpetuating certain images of women.
There was strong support from rugby's higher administration tiers for that culture change, helped by the fact more women were involved in male sports at a managerial level, she said.
Among Northland Rugby Union's staff, almost half were women, Ms Clare said.
For more articles from this region, go to Northern Advocate