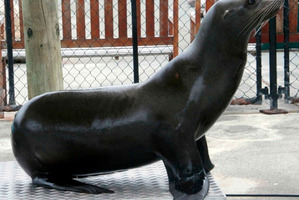 The death of 8-year-old sea lion Rufus is being blamed on late-night hoons throwing stones in his Marineland enclosure.
Rufus died last month, and a post mortem examination has revealed he had swallowed a stone that blocked his intestines.
Napier City Council Tourism Services manager Neil Fergus said the stone had likely been thrown by someone outside on the beach - an ongoing problem for Marineland staff. He believed the stone-throwing took place at night and that some of those responsible were trying to hit the animals.
Marineland's veterinary consultant, Michael Lintott who carried out the post-mortem on Friday, reported that the stone obstructing Rufus's intestines had caused the sea lion to quickly fall ill, showing signs of nausea, vomiting and pain.
Fergus said it was not the first time Rufus had swallowed a stone. He said the enclosures had been set up to prevent the animals being hit as there had been evidence some people had deliberately thrown stones at them.
A post-mortem examination was also carried out on Makea, Rufus' 22-year-old father, who died last week.
Makea had failed to recover from an anaesthetic that had been given to him by veterinarians. The results of that examination are still to be released.
Two California sea lions and seven fur seals are still being cared for at Marineland while their long-term future is decided.
Napier City Council officers met with Department of Conservation staff earlier this week as part of a series of regular meetings to discuss a series of options for the seals.
For more articles from this region, go to Hawkes Bay Today