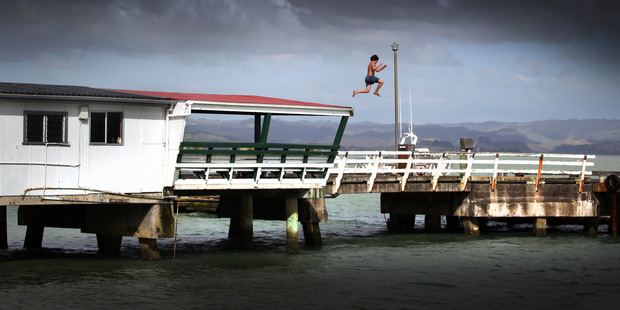 A stiff westerly blows in off the Tasman, carrying the sound of a distant haka on its gusts.
A handful of children play on swings at a park; others ride bikes and skateboards along empty streets. Two teenagers throw caution to the wind, strip down to their shorts and jump into the choppy waters at the far end of the wharf.
This Friday evening, the remote Waikato seaside settlement of Kawhia is momentarily deserted - and distracted.
It's a far cry from the scene last week, when families fishing and enjoying themselves at the waterfront were forced to quickly usher children to safety as a mob turned on local police constable Perry Griffin when he tried to arrest 19-year-old Jackie Maikuku.
A week on from the attack, the focus has shifted further along the harbour to Maketu Marae, where the Chiefs are paying a visit.
Most locals have gathered there to welcome the rugby team on to the marae. It's a chance to mix with their sporting stars and showcase their small community in a positive light.
But even playing host to Super Rugby finalists isn't enough to mask the deep divisions forming in Kawhia.
Hushed conversations between locals take place as they return to the wharf, their cars packed with kids.
Reihana Bishop, uncle of the 19-year-old at the centre of the bashing, is unequivocal. He wants the policeman gone.
"We don't want him back. He's not a community man and won't help people."
He says his nephew had always been a quiet, placid kid and claimed Griffin used standover tactics.
"That cop was a bully and that's the way he works. He tries to be the tough man of the conversation. He's 'I am the law'."
But local fruiterer Robyn Tipper says the whole incident is a shame and she wants Griffin back on the beat.
"We're all pretty annoyed about it. He's well-liked throughout the community and we all want him to come back."
Local resident Jaimee Tamaki says she was saddened by the events but hopes the rift will be resolved.
"We're always a little bit sad because Kawhia is so beautiful.
"But the people in Kawhia are very laid back and they'll take it in their stride.
"Time heals everything."