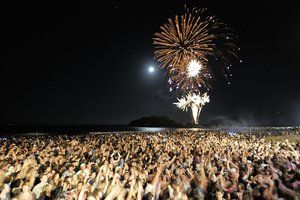 A Mount Maunganui man viciously attacked on New Year's Eve faces a second round of reconstructive surgery.
The man was hospitalised for three days and returned to Tauranga Hospital yesterday[10/01] for further reconstructive surgery on his face.
Detective Senior Sergeant Greg Turner said the man was beaten up outside North Beach on Maunganui Rd about 12.15am on New Year's Day.
The teenager ended up with severe facial injuries after he was punched in the head and kicked to the ground.
"We've got a number of witnesses and we are following some promising leads. The street was chocka. We're just looking for witnesses. We're in the process of trying to locate about 18 people.''
Mr Turner said investigations into several serious assaults were continuing after a particularly violent New Year's Eve in the Bay.
"It was quite a busy New Year's Eve this year and a lot of assaults went unreported.''
Detectives were also continuing their search for the man who stabbed another person who was in the crowd in front of the stage at the Mount Maunganui end of Marine Parade about 11.30pm.
A young man stabbed the victim in his midriff. He was taken to Tauranga Hospital by ambulance, treated and discharged.
"We still haven't found the knife or the guy,'' Mr Turner said.
"Only a slip of the wrist and it could have been much worse. We could have been dealing with a Waihi situation.''
The same night police caught a man allegedly responsible for repeatedly stomping on the head of another man at about 11.30pm on Marine Parade, although they have not been able to find the victim who got up and disappeared into the crowd.
Mr Turner said police would still like to hear from the victim but good witnesses meant the attacker would still be prosecuted.
Calls for information also brought another 12 assault victims out of the woodwork, he said.
"We received about 12 phone calls [from people] that were victims of random drunken violence who hadn't previously spoken to police but weren't our victim.''
The victims may not have been badly injured but all assaults were serious, Mr Turner said.
"We've dealt with a number of manslaughter and murder convictions in Tauranga alone where one punch from someone to the head is enough for someone to fall back and hit their head.''
Later that night 62-year-old Murray Wilkinson was viciously stabbed in the head and neck when he went to investigate a disturbance outside the caravan he and his wife were staying in at Waihi Beach. He was taken to Waikato Hospital where he later died.
Police this week arrested an 18-year-old Waihi man who is charged with murder.
Phone the Tauranga police on (07) 577 4300 if you have information about any of the attacks. Alternatively, anonymously call Crimestoppers on 0800 555 111.
For more articles from this region, go to Bay of Plenty Times