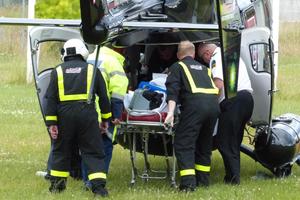 New Zealand's horse racing community is reeling after its first track death in seven years.
Jockey Ashlee Mundy died this morning after falling from her horse at the Kurow Race meet near Oamaru yesterday.
Three separate investigations are underway into the death, which happened just days after the 26-year-old returned home to New Zealand to celebrate Christmas with her family.
The last jockey to die on the track was teenager Sam McRae in 2005. The 16-year-old apprentice jockey was dragged behind his horse for almost 1km when he fell and his foot became entangled in the horse's riding iron at the Riverton race course. He died from fatal head and chest injuries.
Ms Mundy, who was based on the Gold Coast, had returned to New Zealand for a working holiday.
Friends relatives and members of the racing fraternity are devastated at her death.
Trainer Kenny Rae told APNZ Ms Mundy was a "lovely person with animals and with people''.
For the past three years, she had returned home each summer to see her family and participate in race meets, he said.
"She was a very talented rider...and quite a few of the jockeys are quite cut up.''
Mr Rae said Ms Mundy had her last victory riding his horse Fintorro at the Timaru race meet on Friday.
Racing Integrity Unity co chief stipendiary steward Nigel McIntyre said an investigation into the accident causing Ms Mundy's fall was underway.
"We have the riders in, question them with regards to what they see around the incident and view the [race] films and we review the outcome from there.''
Police are conducting a separate investigation and interviewed many of the jockeys immediately after the 1400m race at Kurow, he said.
Labour Department inspectors from the Ministry of Business, Innovation and Employment had also been notified.
"From our observations, we can see at the moment she had clipped the heels of the horse.
"She was dislodged from the horse and directly behind her there was another horse which couldn't get out of the way.
"Her impact on the ground obviously resulted in her injury which has proven to be fatal.''
The incident occurred around the 600m mark in the race. Ms Mundy and her horse Elleaye were near the middle of the field when she fell.
"Obviously we can't interview Ashlee who may have been able to add something to it, which is unfortunate,'' Mr McIntyre said.
"We don't believe any safety aspect of it [the race] was compromised at all.''
Gallop South general manager Malcolm Little, who had know Ms Mundy since she started as an apprentice said: "She is a very good wee friend. It's absolutely devastating. It was a really nice day and it put an absolute dampener on the day for a lot of us.''
Ms Mundy's family lives in Westport. Since arriving back in New Zealand shortly before Christmas, she was dislodged by a horse at Ashburton on December 21 and stood down from the rest of her rides, before getting clearance for the Tapanui meeting at Gore and gaining two second placings.
She had six rides booked at Wingatui on Boxing Day and picked up a third, before regaining her winning form in Timaru.
- additional reporting Otago Daily Times
- APNZ