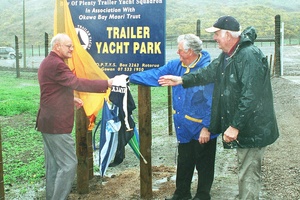 Rotorua District Council has reached an agreement with Ngati Pikiao Environmental Society to call off today blockade of access to the Bay of Plenty Trailer Yacht Squadron's privately owned boat ramp at Okawa Bay on Lake Rotoiti.
Council chief executive Peter Guerin said the council and Ngati Pikiao representatives met earlier today and had a positive and constructive discussion.
He said they would meet again on Friday December 14 and invite stakeholder parties to be represented at the meeting in the interests of finding a resolution to the issue.
Those being invited would include representatives of the yacht squadron, regional council, Te Arawa Lakes Trust, police, Ngati Pikiao and Rotorua District Council.
Mr Guerin said Ngati Pikiao had agreed in the meantime not to proceed with the blockade originally planned for tomorrow.
Meanwhile, a spokesman for the Bay of Plenty Trailer Yacht Squadron says the threat by the Ngati Pikiao Environmental Society to blockade the Okawa Bay boat-ramp on Lake Rotoiti is just the most recent attempt by the Ngati Pikiao society to get access to the boat ramp.
Yacht squadron marina manager Paul Rogers said there were scores of private ramps from lakeshore homes as well as four public boat ramps on Lake Rotoiti, one of them within 2kms of Okawa Bay.
Mr Rogers said the Okawa Bay ramp was built by the Bay of Plenty Trailer Yacht Squadron in the late 1970s on the understanding with the Rotorua District Council that it would be for squadron members only because of concerns about traffic movement to and from Okawa Bay Rd on to State Highway 33.
The ramp has a locked gate accessible by keys issued by the squadron. Anyone wishing to use the ramp for its intended purpose can apply to join the trailer yacht squadron.
For more articles from this region, go to Rotorua Daily Post