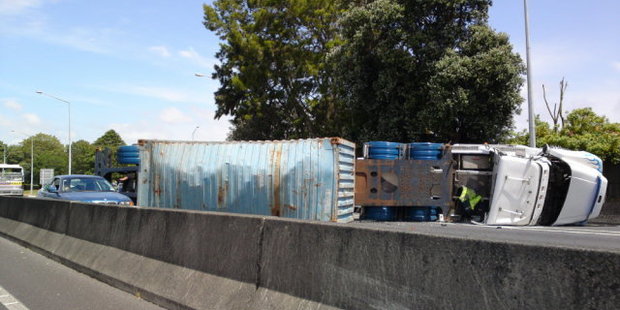 All northbound lanes on Auckland's southern motorway are now open after an overturned truck caused traffic chaos.
But police are still warning that rush hour traffic may be "somewhat heavier" than usual as those diverted around the scene clear the area.
All diversions have been lifted and all motorway lanes are now open following the earlier truck crash at East Tamaki.
Police said they were called to the scene at 2.37pm.
Two cranes were used to clear the scene.
All northbound traffic was directed off the motorway at Manukau/SH20.
Police said those unfortunate enough to be stuck between SH20 and East Tämaki were reduced to one lane and gradually directed off at East Tämaki.
Police said there had also been several secondary crashes as a result of inattention and motorists travelling south were asked to concentrate and not to slow to look at the scene.
The truck driver sustained minor injuries but nobody else was hurt.
- nzherald.co.nz