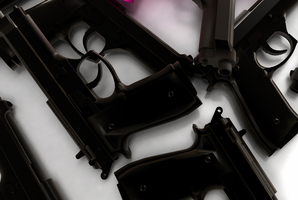 A Masterton teenager with a plastic gun sparked an armed police call-out and cordon after he was seen brandishing the toy at passing motorists.
The 15-year-old was seen on Opaki Rd coming into Masterton, pointing the gun at cars as they drove past on Friday around 5.30pm.
Ten armed police were sent to the area, putting a cordon in place near Jordan Tce, and the boy was located shortly after with a plastic imitation revolver.
Masterton police senior sergeant Warwick Burr said that after the cordon was set up, a resident driving out spoke to police and told them a boy matching the description had just arrived at his house to see a friend.
Police were making plans to get the young man out of the house when he walked out of his own accord, was found to be in possession of the toy gun and admitted to police what he had done.
The boy has been referred to Youth Aid.
Mr Burr said police take all firearms calls seriously and although in this instance it ended up being a toy gun, it was a good reminder about firearm safety.
"It goes to show the stupidity of pointing toy guns at people. It puts people that do those things and potentially members of the public at risk."
For more articles from this region, go to Wairarapa Times-Age