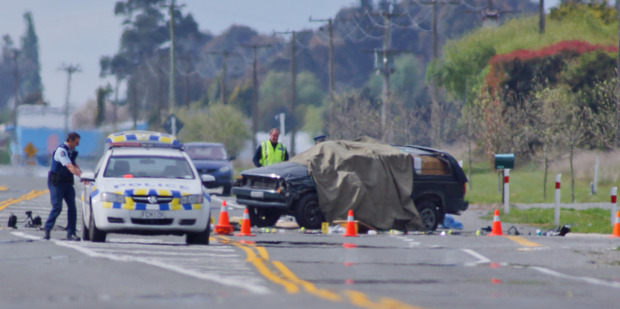 Four people died in a fiery head-on collision last night, but incredibly, the driver of the blazing car crawled to safety with only superficial injuries. Police believe alcohol was a factor in the crash.
The community of Whatatutu is in distress after the crash on State Highway 2 in which a van and a Ford Explorer 4x4 collided about 15km north of Gisborne at 9.15pm.
Police have named one of the victims, the sole female occupant of an Odessa van. Gisborne local, Serena Smith, a 33-year-old mother, was travelling to her parents' house in Whatatutu from Gisborne after being the sober driver for the night, said police.
Her vehicle collided head-on with a Ford Explorer vehicle travelling towards Gisborne.
The Explorer caught fire and three of the occupants died. The 59-year-old male driver was taken to Gisborne Hospital where he is in a serious but stable condition.
Passersby attempted to help get the people in the burning vehicle out but were unable to release their seat belts before it became engulfed in flames, said police.
Those who died are understood to be related to the driver.
Police believe that the Ford Explorer vehicle has crossed the centre line and alcohol was a factor in the crash.
The smash came after Annalese Bacon, 17, was killed on Friday night at Reporoa in the Bay of Plenty.
A 62-year-old man was the third killed last night in a crash on Tucker Beach Rd, near Queenstown.
Also yesterday, a pregnant woman was killed and her husband seriously injured in another smash yesterday afternoon, near Washdyke, north of Timaru.
The pregnant 24-year-old had already died. Her husband, who was driving, received serious injuries when he was thrown from the vehicle. The couple's two children, aged 4 and 5, were in the back seat and were treated for minor injuries.
"A car on Divans Rd appears to have pulled out on to SH1 and the vehicles have collided," police said in a statement.
The crash happened around 2.55pm.
Local resident Jan Van Valkengoed said police were walking along the side of the highway at 5pm, probably gathering evidence.
Meanwhile, the family of a teenager killed in a crash caused by alcohol and speed have described the young girl as "a rebel with a heart".
Annalese Bacon, 17, was apparently not wearing a seatbelt when the car being driven by her boyfriend rolled on Plateau Rd at Reporoa about 8.15pm on Friday.
Her mother, Darlene Fiveash, said the Taupo teenager had been a lovable rebel.
"She was a typical teenager," Fiveash said.
Inspector Kevin Taylor said the crash could have been avoidable.
The man who died in a Waikato crash on Thursday has been identified as Steve Laurence Holman.
- APNZ staff and Herald on Sunday