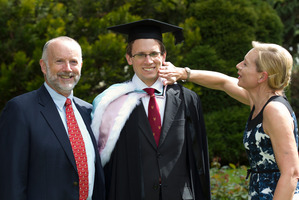 Sitting at the back of a courtroom while his father, the judge, presided over cases inspired Benedict Tompkins to follow in his footsteps - and his grandfather's and great-grandfather's.
The 24-year-old was among almost 3000 students to graduate yesterday in the University of Auckland's spring ceremony.
Mr Tompkins received a bachelor of laws, making him the fourth generation of his family to graduate in law.
His great-grandfather was Supreme Court Judge Arthur Lance Tompkins - known as Lance Tompkins - who studied extramurally before World War I. His grandfather is retired QC and High Court Judge Sir David Tompkins and his father is District Court Judge Arthur Tompkins.
Mr Tompkins, who works as a junior prosecutor for a firm in Wellington, said many things in his life had inspired him to consider law but he could not go past family influence.
"I would sit in the back of [my father's] courtroom and watch things. Although much of what I saw was not child-friendly, I was interested and wanted to learn more about what was going on."
He called the law "fascinating, ever-changing and intellectually simulating".
Graduation day
University of Auckland
* 2964 graduates.
* 3074 qualifications.
* 136 doctorates.