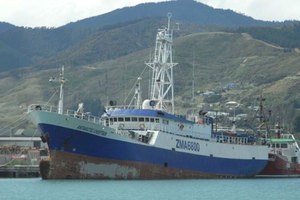 A Nelson man has died on board a fishing vessel travelling to Nelson from Mauritius.
Mark William Sweeny, 53, was reported dead by the captain of the Antarctic Chieftain when the ship was about 270 miles south-east of Tasmania on Sunday.
The vessel arrived in Nelson at about 8:50am yesterday, where it was met by police investigators and staff from the Australian Maritime Safety Authority.
Police said a full investigation was carried out and the death has been referred to the coroner.
Detective Senior Sergeant Wayne McCoy police had interviewed all seven crew about the death. He described it as a tragedy.
The Australian Maritime Safety Authority was continuing its investigation into procedures and protocols aboard the vessel.
Mr Sweeny was the second engineer on board the Antarctic Chieftan, which was en route from Nelson to Mauritius.