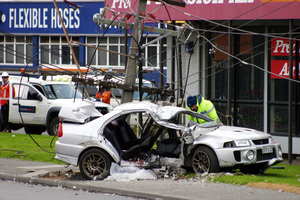 Firefighters had to wait for electricity to be switched off in Onehunga before they could cut a man out of his crashed car yesterday.
Emergency services were called to Neilson St after the crash at 2.17am. The man slammed into a power pole and died at the scene.
A Fire Service spokesman said the crew that attended had to wait for Vector to come and cut the power off, and stabilise the pole before they could extricate the man.
According to Vector's website, power was off until 7am.
The police serious crash unit is investigating the cause of the crash.
No further details were available last night about the man, or whether speed and alcohol contributed to the crash.
In a separate incident, two people were taken to hospital after a four-vehicle crash on State Highway 17 at Dairy Flat, north of Auckland, yesterday afternoon.
Officers from the police serious crash unit were investigating the crash, which happened about 4.45pm.
None of the injured motorists are thought to have life-threatening injuries, police said.
- Staff reporter, APNZ